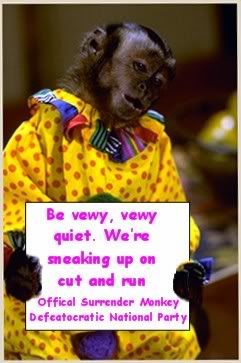 Happy Friday to all! It's that time of the week again! Do you have an interesting post you want to share with everyone? The official Surrender Monkey of the Democratic Party says to do what the Lefties don't, since they all have the same talking points: link it!
The Surrender Monkey is sad today, so he is trying to cheer up all the lefties out there, who are upset that the Democratic Congress isn't going whole hog after cut and run in Iraq. I mean, isn't that what they were elected for, a change in direction? That is what the media, and the Nutroots, keep telling us.
"Resolution after resolution. Bill after bill." I guess Chuck S., junior Senator from NY 🙂 wasn't kidding
WASHINGTON — House Democratic leaders are developing an anti-war proposal that wouldn't cut off money for U.S. troops in Iraq but would require President Bush to acknowledge problems with an overburdened military.

The plan could draw bipartisan support but is expected to be a tough sell to members who say they don't think it goes far enough to assuage voters angered by the four-year conflict.

Bush "hasn't to date done anything we've asked him to do, so why we would think he would do anything in the future is beyond me," said Rep. Lynn Woolsey, D-Calif., one of a group of liberal Democrats pushing for an immediate end to the war.

Democratic protests to the war grew louder in January after they took control of Congress and Bush announced he planned to send 21,500 more troops to Iraq. Earlier this month, House Democrats pushed through a nonbinding resolution opposing the buildup.

Since then, Democrats have been trying to decide what to do next. Some worried that a plan by Rep. John Murtha to restrict funding for the war would go too far. Murtha, D-Pa., is extending his support to the revised proposal.
If at first you don't surrender, try, try again.
The Democrats found out that their original proposal just wasn't as popular as they thought their midterm election "mandate" gave them hope for. Now they will try a watered down version. What this goes to show is that Democrats really have no conviction. Stick that finger in the air and see which way the wind is blowing, and how hard.
Mr. Redeploy to Okinawa Murtha, who was all hot to trot over messing with the troops funding, sure has backed off fast, though, if this non-binding resolution (doesn't the Congress have real business to attend to?) goes through, then the Dems can try tougher ones.
BTW, I dropped this post in its original form over at the Victory Caucus, when I first came across it. Have you joined the Victory Caucus yet? If ye needeth an inviteth, emaileth me(eth)

Send a trackback to this post, but don't forget to link it. Otherwise, Al Gore may might use you to make himself carbon neutral.

If you liked my post, feel free to subscribe to my rss feeds.