Since a few people emailed me asking how I got that pirate ship graphic to load on the left side of my PiratesCove them, here is how you do it.
I snagged the css from Garden Log, who snagged it from elsewhere, and farther back. Nice theme, but the footer will not show up anywhere but the middle of the page.
First, do you have room on the left or right side? If the answer is yes, continue. If no, create a new theme 🙂
Second, you need to do one of two things: find the graphic or decide on a background color. Once you decide on one, then decide on the other.
Third, it is helpful to use a photo editing program to blend the background color with the graphic, as well as making the graphic the size you need. Do not make it too tall. Mine is about 459 pixels. However, you can have a much bigger one, such as on the Sea Beast theme. Up to you. Me, I create for 1024×768, which is a. what I set all my PC's for, and b. the most popular size for PC users.
Fourth, upload graphic to the theme.
Fifth, now we change/add to the Stylesheet.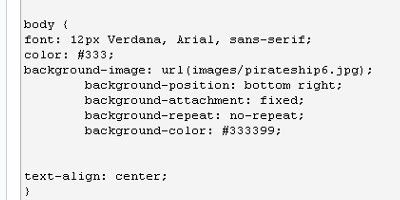 find the section on "body"
if you notice in the graphic above, you add the lines that begin with "background" that do not already exist. Do not have duplicate lines, obviously.
the first background line is where the graphic exists. It is saying that the graphic is in the "Image" folder under the main theme files folder. If question, email me.
the second line is where you want it. You could change to bottom left, top left, center right, etc.
attachment, leave fixed. Same with repeat, unless you want it across the entire background. If so, then this CSS is not for you.
color. Obvious. You can find html color codes all over the place. I usually find them here.
Bamm! You are ready to go. Now, you can play and tweak to get it exactly the way you want it.
If you have questions, you know what to do!

If you liked my post, feel free to subscribe to my rss feeds.