And a Happy Friday, all you neocons out there. Drop the MEDS (Midterm Election Depression Syndrome), and get ready for two years of us ripping the majority party!!!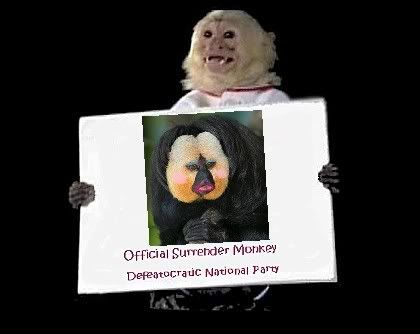 The Murtha Monkey brings you something special about Dem Speaker Nancy Pelosi's nominee, since lost, for Majority leader:
Rep. John Murtha (D-Pa.) told a group of Democratic moderates on Tuesday that an ethics and lobbying reform bill being pushed by party leaders was "total crap," but said that he would work to enact the legislation because Speaker-to-be Nancy Pelosi (D-Calif.) supports it.

"Even though I think it's total crap, I'll vote for it and pass it because that's what Nancy wants," Murtha told the Blue Dogs, according to three sources who were at the meeting.
The only surprise is that he actually said that out loud.
Looks like Murtha is going to be Nancy's b*tch for the next two years. The Hill says it a lot nicer then I do 🙂
"I want to acknowledge the magnificent contribution of Mr. Murtha to this debate on the war on Iraq. I thank him for his courage for stepping forward one year ago to speak truth to power, to change the debate in this country in a way that gave us this majority this November. Mr. Murtha won the JFK Profile in Courage Award; he's a great Member of Congress, I was proud to support him for Majority Leader because I thought that would be the best way to bring an end to the war in Iraq. I know that he will continue to take the lead on that issue for our Caucus, for this Congress, for our country."
So said Nancy Pelosi. She wants to thank him for calling for cut and run in Iraq, which gave them the majority. You just cannot make this stuff up!

Send a trackback to this post, but don't forget to link it.

If you liked my post, feel free to subscribe to my rss feeds.