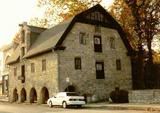 That is a building I saw constantly during 4 years at Blair Academy in Blairstown, NJ. What is it? That is the John I Blair Memorial Library. It is also the building in the opening scene from the movie Friday The 13th.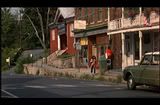 Looking back to the left in the next picture up the hill is the dorm I lived in my freshman year there. In the movie she was walking from right to left in the first picture. In the second she is going L to R, which is actually back to the library, as they are on the same street, and same side of the street.
There were many spots around Blairstown that are pretty spooky, including the pond right near the library, across which a house sits. If you look across the pond at the correct angle, it looks just like the cover of Black Sabbath's first album.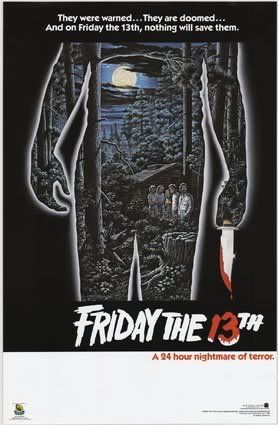 Walking around at night can be a little freaky, especially as we got a little older, and would drink illegally.
Even better, a classmate of mine was from Bergan County in NJ, and was a Boy Scout. Those from that area went to Camp NoBeBoSco, North Bergan Boy Scouts. That is also where they filmed many of the camp scenes. A bunch of us were up there getting plastered one time in the late day. The shower building, which was built for the movie, still had the fake blood all over it.
If you want to see a whole bunch of photos of the are linked to the movie, check this site.
We ate in the diner almost every thursday as seniors. We wandered around so many of the spots from the movie. And, at dark, as teenagers, made ya think.

If you liked my post, feel free to subscribe to my rss feeds.