The Green Bay Packers had a little plan to get all the fans to link arms during the national anthem, in an attempt to push social justice warrioring. And it was about SJW stuff
The Green Bay Packers players are asking fans tonight to join them in a "display of unity" by linking arms during the national anthem before their game with the Chicago Bears.

"It will represent a coming together of players who want the same things all of us do – freedom, equality, tolerance, understanding and justice for those who have been unjustly treated, discriminated against or otherwise treated unfairly," the players' statement read.
As I've commented and tweeted time and time again, just like many others, the linking arms thing is just as much a SJW protest as kneeling. And the GB fans were having none of it. They just want to see some football
#BREAKING: Green Bay Packers and Chicago Bears link arms during national anthem before Thursday night game https://t.co/12A5R1wxh0 pic.twitter.com/AHry1irwOe

— Washington Examiner (@dcexaminer) September 29, 2017
They were blasting the team before the game, and let the team have a little bit of the old what for during the anthem
(Green Bay Press Gazette) Chants of "U-S-A! U-S-A!" reverberated around Lambeau Field on Thursday as the Green Bay Packers and Chicago Bears stood to observe the national anthem. Players and coaches from both teams locked arms on their respective sidelines. No one sat and no one kneeled.
Remember, in Green Bay the fans are the owners/shareholders. And they did not, for the most part, approve of this protest. You see them holding American Flags, saluting, and putting their hand over their heart in video. Though many of them look monumentally pissed off at the protest from the players.
The decision by the Packers to lock arms was meant as a display of unity, a message made public through a statement crafted by the players earlier this week. They encouraged fans to do the same, and while the anthem proved to be uneventful, the majority of spectators did not link arms with their neighbors.

"Well, it was an invitation to join us," Packers quarterback Aaron Rodgers said. "The beauty is, it's a free country so they can choose to do it or not.

"The messaging of this, unfortunately, continues to need to be redirected. It's never been about the national anthem, it's never been about the military. We're all patriotic in the locker room. We love our troops. This is about something bigger than that: an invitation to show unity in the face of some divisiveness from the top in this country, and I'm proud of our guys. This has been a galvanizing situation for us."
Question for Rodgers: beyond linking arms, what has this galvanized you to do personally? Are you actually putting your money and time where your mouth is? Getting into the Black communities and helping them out? Well, we know one thing: he's being a smartass
I can't imagine what kind of social media attacks these cameramen must be enduring after taking… https://t.co/dYEF8BMlxB

— Aaron Rodgers (@AaronRodgers12) September 27, 2017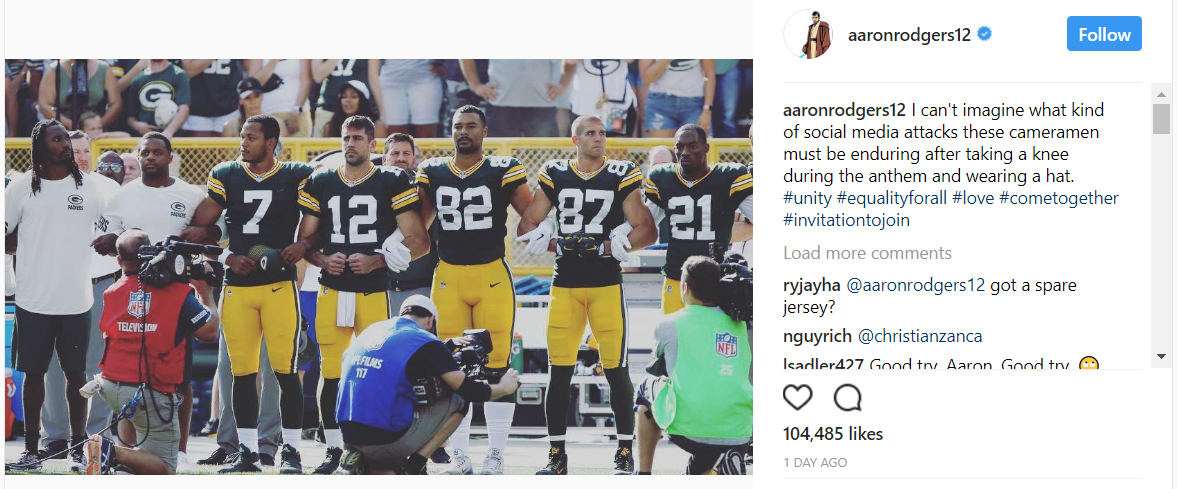 Nice job pissing off the people who make it so you have a job.

If you liked my post, feel free to subscribe to my rss feeds.