Via Steven Goddard, who writes that the headline at the article should read "New York violates citizen's second amendment rights after violating his fourth amendment rights"
Cops: Man violates new gun laws with 2 extra bullets in magazine

…The troopers determined the gun, a .40-caliber pistol, was legally registered and possessed. However, when the troopers inspected the pistol, its magazine contained the nine bullets – New York's Secure Ammunition and Firearms Enforcement Act only allows seven bullets per magazine.

Police charged Gregory Dean with unlawful possession of certain ammunition feeding devices, third-degree aggravated unlicensed operation,both misdemeanors, plus vehicle infractions, police said.
He was pulled over because his car's license plate light bulb wasn't a CFL working. Whew! Glad the cops are concerned with real crime! And they've now made sure NY is completely safe from 2 extra bullets!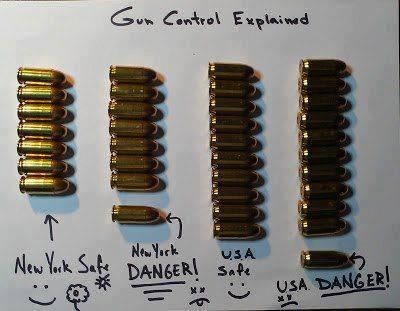 If you liked my post, feel free to subscribe to my rss feeds.