I guess it is a day for Manufactured Hypocritical Outrage today in the Nutroots. First we had the freakout at Michelle M. over Obama-Hitler comparisons (snicker), now
A cartoon likening the author of the stimulus bill, perhaps President Barack Obama, with a rabid chimpanzee graced the pages of the New York Post on Wednesday.

The drawing, from famed cartoonist Sean Delonas, is rife with violent imagery and racial undertones. In it, two befuddled-looking police officers holding guns look over the dead and bleeding chimpanzee that attacked a woman in Stamford, Connecticut.
Yeah, Ok, uh-huh, sure thing, sparky. Should I perhaps post up a few of those wonderful cartoons by Pat Oliphant and Ted Rall, you know, the ones demeaning the troops, referring to Condi Rice as a house ni**er, or, some of those other lovely oneswishing death on Dubya? Not too mention the assassination chic, wishing the bomber had gotten Cheney in Afghanistan, wishing Laura Bush had lost her leg when she had a little growth removed, etc, and so on. You know the hit parade. But, hey, let's not forget the lovely "c" word shirtsunhinged Palin haters were selling. Hanging Palin for Halloween.
Lighten up, nutroots. It's not always about you. Ever heard the parable about a million monkeys typing on a million typewriters? Or, maybe they just meant the bill was so bad that a monkey wrote it. But, don't forget to get upset with Pandagon for the vaguely racist header graphic (hint: jungle next to Obama logo)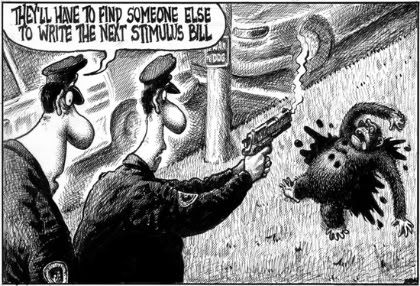 Sane people writing about this: Sister Toldjah, NewsBusters.org, Pajamas Media. You can see links to the unhinged at Memeorandum.

If you liked my post, feel free to subscribe to my rss feeds.