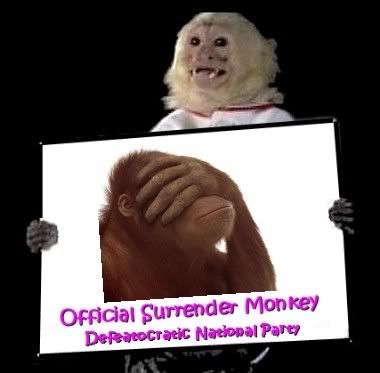 Surrendie and his cousin Do! love this story, because it involves surrender of kids to public schools, creating the perfect Democrat voters!
More than twice as many Americans – 56 percent — know that Paula Abdul is a judge on "American Idol" as know that the phrase "government of the people, by the people, for the people" comes from Abraham Lincoln's Gettysburg Address (21 percent) — a phrase President-elect Barack Obama used in his election-night victory speech.

The average American is nearly illiterate when it comes to basic principles of American history, government and economics, according to a new report from the Intercollegiate Studies Institute – and politicians are even worse.

More than 2,000 people were administered a 33-question test this Spring on American history and our political and economic institutions. Of them, 71 percent — college and non-college educated alike – got a failing mark, ISI's Josiah Bunting III said, presenting the study at a news conference at the National Press Club in Washington, D.C., Thursday.

"It can truly be said that we are suffering from an epidemic of civic ignorance," Bunting said. "The extent of failure is pervasive, cutting across every segment of the American population.
How bad was it?
Less than half of Americans can name all three branches of government.
Only 27 percent of Americans know that the Bill of Rights prohibits the government from establishing an official religion in the U.S.
54 percent do not know that the Constitution gives Congress the power to declare war, not the president.
Politicians scored even lower.
Darryl DeMarzio, an assistant professor in the education department at the University of Scranton, told CNSNews.com that many politically correct college campuses no longer teach "history" classes, as most people remember.

"One of the purposes of a history course now is not the acquisition of historical knowledge, but it's a vague skill like 'thinking historically,' or something like that," DeMarzio said.

The culprit is that teachers are steeped in a philosophy called "constructivism."

"That's the idea that knowledge is not something that teachers possess and give to students or teach students," DeMarzio tolld CNSNews.com. "Rather, knowledge is a process in which students construct meaning for themselves. 
So what we are talking about is more feel good socialization education, rather then practical reality.
Update: Sharon Soon breaks down a Zogby poll along similar lines at Right Wing News and Conservatives With Attitude.

If you liked my post, feel free to subscribe to my rss feeds.