They thought it was hilarious when Palin was hung in effigy, but, this, they are losing it
A skeleton pirate holding a gun to an effigy of Democratic presidential candidate Barack Obama, who appeared to have just walked off the plank of a pirate ship, caused a stir in far western Colorado.

The scene was a Halloween display outside the home of Jim and Cheryl Barnes, 955 U.S. Highway 6 & 50.

Obama was constructed from a white plastic skeleton, painted dark brown, with large ears and eyes and black hair glued in place. He wore suit pants, a white shirt and a tie.

On the ship was a sign, "Obama for president of Afghanistan."

As to the color of Obama's skin, "I don't care what race he is. His race makes no difference," Cheryl Barnes said. "I don't like his policies, the things he's voted for.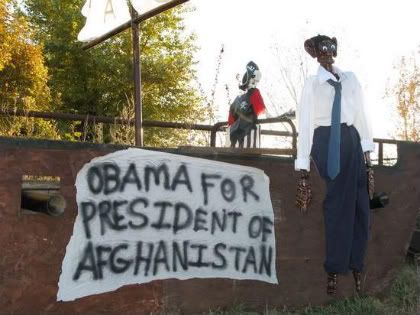 You know what is coming next, right?
Lying racist fucks
$50 says they can't name one thing Obama voted for or against They're typical Repugs, ignorant. (

$100 you can't name one thing Barry voted for either, other then "present.")

That is one butt-ass fugly Halloween display. Stupid, to boot.
I really hope people like this aren't expecting a "Halloween exemption" when it comes to explicit or implied threats against a presidential/V.P. candidate! The SS needs to get on this shit pronto… (

I have a feeling the DUmmy doesn't mean the Secret Service, if you get my meaning)

it's a shame it wasn't up long enough to get torched..and i mean that in all sincerity. i've decided that i have no tolerance whatsoever for these dumbnuts anymore. (

Violence against Americans, but not against radical Islamist. OK

)
take it down does anyone want to go to colorado and take it down? along with their house. i'll go (

Peace!)

these people who do this should be arrested. (

Welcome to Orwell's 1984

)
Hypocrisy is fun! And, for the record, while I would fight for the right of the people to put up that display, they are still as*holes and, probably attention whores. There was no need to go there with that display.
Trackposted to nn7v, Rosemary's Thoughts, Allie is Wired, Political Byline, McCain Blogs, Woman Honor Thyself, Walls of the City, The World According to Carl, The Pink Flamingo, Cao's Blog, Right Voices, and Stageleft, thanks to Linkfest Haven Deluxe. 

If you liked my post, feel free to subscribe to my rss feeds.