I haven't blogged anything about the Rachael Ray Dunkin Donuts kaffiyah kerffufle (while lots of people have covered it, go to Merri Musings, since she is a huge fan), mostly because I think it is no big deal. I don't think it was one, just a pretty scarf that I have seen around in the tri-state area for a long time. Hell, Mom has one, and she is not in solidarity with the Palestinian Intifada. 'Specially since since she is a relapsed Jew. But, on the flip side, someone may have slipped the scarf in on purpose. Kinda strange to be wearing a scarf with shortsleaves when the trees are blooming.
Anyhow, via Little Green Footballs, some of the nuttiest of the moonbats are barking mad and just aren't going to take it, damnitall!
US activists have called for a boycott of doughnuts-and-coffee chain Dunkin Donuts after it pulled an online ad that a conservative commentator said promoted jihad.

"Dunkin Donuts has capitulated and withdrawn an advertisement for its products following the allegation… that the spokeswoman in the ad was wearing a kaffiyeh, a scarf which is a staple of clothing traditionally worn by Palestinian men," the ANSWER Coalition said in a statement.

ANSWER, which groups hundreds of anti-war and anti-racism organizations around the United States, called for a "worldwide boycott of Dunkin Donuts… to send a powerful message to corporations that engage in racism or pander to anti-Arab and anti-Muslim racists."
Charles writes: Of course, normally International ANSWER is the very first moonbat group to stand up and proclaim their "solidarity with the resistance!" But in this case, it's "just a traditional scarf," and anyone who objects to it is a "racist."
No, that can't be right, can it?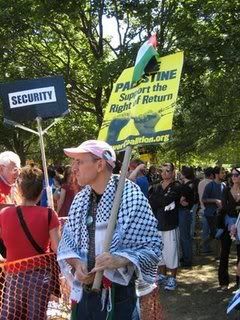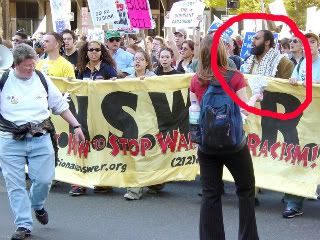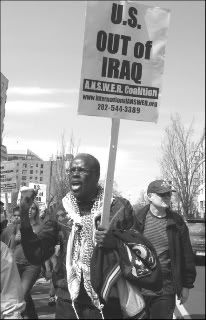 And, let's check ANSWER's webpage itself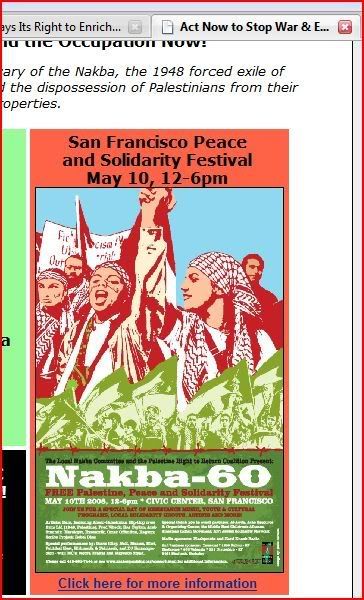 Nope, just a traditional scarf.

If you liked my post, feel free to subscribe to my rss feeds.