I usually leave this to Rusty and the folks at The Jawa Report, but, I ran across this psycho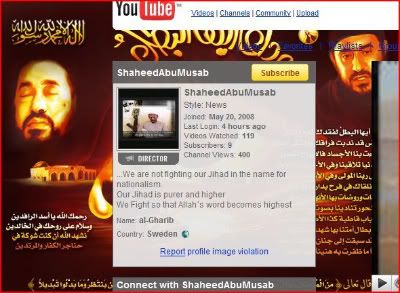 Help take this douchebag down!
His account is here at ShaheedAbuMusad. Flag his vids before he gets going.
Contact Youtube here, for violation of
Graphic or gratuitous violence is not allowed. If your video shows someone getting hurt, attacked, or humiliated, don't post it.
YouTube is not a shock site. Don't post gross-out videos of accidents, dead bodies and similar things.
Get 'em!

If you liked my post, feel free to subscribe to my rss feeds.