Two words: crazy insane (people who've seen Weird Science know what I'm talkin' 'bout!). Excitable Andy discussed The Ignorance of the Right in discussing B. Hussein and his lack of substance. First, he starts in on Victor David Hanson, then proceeds to explain why B. Hussein actually has substance because he speak articulately. Maybe B. Hussein should be called Jim Jones.
The quote from Hanson
Under pressure to produce some facts and specifics, the Obama team is beginning to release a little on the economy, taxes, and new entitlements.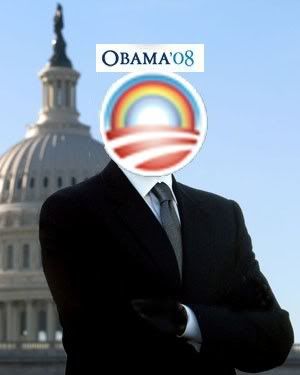 Excitable Andy responds with
Now the reason I balk at this is that I actually sat through a long Obama speech on taxes last year in Washington. I couldn't get through the details there were so many. It bored the pants off me. The notion that Obama has not released details and specifics on economic policy is a fantasy. It's a product of pundit laziness. The cocoon right seems to believe that because they haven't done their homework, Obama hasn't.
Really? When? 'Cause it seems that no one else attended it, including the media. And Excitable Andy still misses the point about B. Hussein, being that talking is not doing. Also, that Obama wants to be president, so, it is incumbent on HIM to do more then speak towards change and hope. If I want a sermon, I will go to church.
And because Obama actually inspires with oratory, they also assume he doesn't have substance. The premise is that you cannot be inspiring and detailed at the same time. Two words: Why not?

What people fail to understand is that in politics, words are also substance. ……..
In terms of getting elected, yes, they are substance. But, that still does not prove that Obama actually has any. I wonder if Sullivan can name anything of importance that Obama has actually done in government? That would be interesting, because Obama can't even seem to do that, based on his speeches which are chock full of hope and change, change and hope, and not much else. So, yes, we assume he has little actionable substance.
Let me put it this way: when a Fortune 500 company looks to hire a CEO, they look for someone with experience, vision, and action plans. Speaking well is a bonus, but, not the primary thing they are looking for. Or, how about closer to home: you want to hire someone to be the manager of a department store. Do you hire someone with experience at the job, such as someone who did it at another store, or an assistant manager at another store? Or, just hire one of the department heads, who hasn't been on the job too long, and hasn't really done anything? But he/she speaks so well!
There is nothing wrong with speaking well, but, if that is all someone is doing……..
You know, there was another populist leader from the 20th century who got elected running the same way. He was a brilliant speaker, able to whip the masses up, invoke deep feelings in the Volk, yet, there was little behind the speeches other then a rough outline of what he wanted to get done.
Actually, pardon me: Hitler had slightly more experience in government and getting things done when he first ran for President in 1932.
Fausta mentions Excitable Andy in her post "Fainting For Obama."
Dean Barnett writes about the Magical Democrat.
Trackposted to Rosemary's Thoughts, 123beta, Shadowscope, Cao's Blog, Big Dog's Weblog, Adeline and Hazel, third world county, Faultline USA, Nuke Gingrich, , The Crazy Rants of Samantha Burns, The World According to Carl, Celebrity Smack, The Pink Flamingo, Dumb Ox Daily News, and The Yankee Sailor, thanks to Linkfest Haven Deluxe.

If you liked my post, feel free to subscribe to my rss feeds.