Well, now. How do the climahysterics argue with, you know, facts?
(Andrew Bolt – Herald Sun) The IPCC used it in its third assessment report. Al Gore used it in his movie. In fact, no graphic has had such a huge effect as the infamous hockeystick produced by Michael Mann, who used tree ring data to allegedly show that the last century's warming was unprecedented, and the globe had never in 2000 years been this hot.

Small problem. Mann's manipulation of the statistics has since been discredited, and the graph dropped out of the IPCC's fourth report. But the damage has been done. Millions of people now firmly believe the world hasn't been this hot in recorded history, not even during the Medieval Warm Period.

Now a new study says Mann didn't just get the maths wrong, but could have been using tainted data as well.

Ecological modeller Dr Craig Loehle has checked other proxy data, rather than the tree rings he says are unreliable, and comes up with a very different graphic indeed: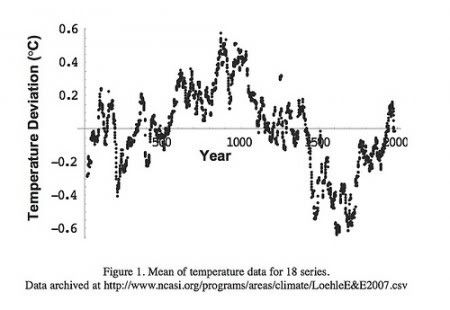 Aaaaaahhhhh! Run away! Facts!
To sum up. This warming is not unusual. The planet was warmer less than 1000 years ago.  Oh, and see the fall in temperatures since 1998's high, which so panicked so many people.
But if it is not unusual, folks like Al Gore won't be able to get lots of money from speeches, selling carbon offsets, and able to fly around the world to exotic vacation scenes at the expense of their sheeple.
I've said it before and I will say it again: this warming trend is nothing unusual. It has been going on thru the life of the Earth. Warm periods, cool periods, hot periods, and ice ages. Just because a few people want to gain prestige and $$$$$ by scaring a few folks because of CO2 from SUVs doesn't make it true. There will always be some sort of influence from life. We are part of the natural order.
And I will say it again: if the danger from Man is so great, why are the climahysterics not changing their lifestyles, such as only driving hybrids, stop flying, take public transportation, etc, and so on.
Trackposted to Perri Nelson's Website, Blog @ MoreWhat.com, Allie is Wired, Adam's Blog, The World According to Carl, The Pink Flamingo, The Amboy Times, Chuck Adkins, Republican National Convention Blog, The Pet Haven, Dumb Ox Daily News, and Right Voices, thanks to Linkfest Haven Deluxe.

If you liked my post, feel free to subscribe to my rss feeds.