Happy Friday to all! It's that time of the week again! Do you have an interesting post you want to share with everyone? The official Surrender Monkey of the Democratic Party says to do what the Lefties don't, since they all have the same talking points: link it!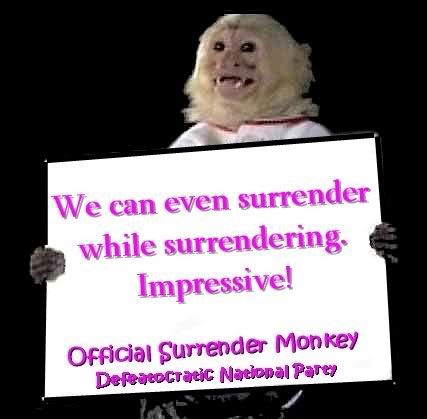 The Surrender Monkey is not sure if he should be happy or sad. Why?
The Democrats' flagship proposal on Iraq is aimed at bringing most troops home. Yet if enacted, the law would still allow for tens of thousands of U.S. troops to stay deployed for years to come.

This reality — readily acknowledged by Democrats who say it's still their best shot at curbing the nearly five-year war — has drawn the ire of anti-war groups and bolstered President Bush's prediction that the United States will most likely wind up maintaining a hefty long-term presence in Iraq, much like in South Korea.
He is sad that the Associated Press is acknowledging that the Democrats are waffling and watering down their surrender in Iraq legislation. But, he is happy that the Democrats are able to surrender on surrender. To be able to surrender while trying to surrender is an incredible feat, even for Democrats. He feels like dancing a happy jig, though, of course, since he is a liberal, being happy would make him sad.
For those who make it through to the end of the article
Indeed, the legislation is more of a signal to the White House that Congress' patience with the war is gone, than any mandate on how to run operations. That could explain why entities like the Government Accountability Office have not examined the ramifications of the bill.

Or as Anthony Cordesman, a national security analyst at the Center for Strategic and International Studies in Washington, put it: "As long as you're discussing a bill that is designed for political purposes, you don't have to get down to the issue of whether it would work or not."
Democrats "lost patience" the minute they realized that their vote for war was not a toothless threat against Saddam Hussein, but an actual authorization, as well as giving them an outlet to show their Bush Derangement Syndrome. Plus, political gestures seem to be about all Democrats are capable of. Too bad their gestures are helping America's, and Iraq's, enemies.

Send a trackback to this post, but don't forget to link it. Otherwise, no turkey leftovers for you!

If you liked my post, feel free to subscribe to my rss feeds.