I really am shocked. Over the past month or so, I am seeing more and more news stories in the New York Times that state that things are getting much better and even *gulp* that we are winning in Iraq. The editorials are avoiding discussion of the state of Iraq's security as of late, as well. And this concerns me.
Why, you ask? Because I am worried about Pinch Sulzberger, Jr. All these positive, or at least neutral stories, lead me to believe that he has been either "disappeared" or replaced with a doppleganger. Maybe by one of the pod people. Or perhaps he is being controlled by those things from Heinlein's "The Puppet Masters." How else to explain allowing his paper of liberal talking points to print articles such as this
Five months ago, Suhaila al-Aasan lived in an oxygen tank factory with her husband and two sons, convinced that they would never go back to their apartment in Dora, a middle-class neighborhood in southern Baghdad.

Today she is home again, cooking by a sunlit window, sleeping beneath her favorite wedding picture. And yet, she and her family are remarkably alone. The half-dozen other apartments in her building echo with emptiness and, on most days, Iraqi soldiers are the only neighbors she sees.

"I feel happy," she said, standing in her bedroom, between a flowered bedspread and a bullet hole in the wall. "But my happiness is not complete. We need more people to come back. We need more people to feel safe."
Perhaps the New York Times website address has been hacked. People in Baghdad are happy? How could that possibly be?
The security improvements in most neighborhoods are real. Days now pass without a car bomb, after a high of 44 in the city in February. The number of bodies appearing on Baghdad's streets has plummeted to about 5 a day, from as many as 35 eight months ago, and suicide bombings across Iraq fell to 16 in October, half the number of last summer and down sharply from a recent peak of 59 in March, the American military says.

As a result, for the first time in nearly two years, people are moving with freedom around much of this city. In more than 50 interviews across Baghdad, it became clear that while there were still no-go zones, more Iraqis now drive between Sunni and Shiite areas for work, shopping or school, a few even after dark. In the most stable neighborhoods of Baghdad, some secular women are also dressing as they wish. Wedding bands are playing in public again, and at a handful of once shuttered liquor stores customers now line up outside in a collective rebuke to religious vigilantes from the Shiite Mahdi Army.
Seriously, you should read the whole article. It is balanced and thoughtful, with just the right measure of reality. Things are improving dramatically in Iraq, particularly in Baghdad. Sure, there are still some dangers and issues. Such is life, particularly when Islamic extremists are involved.
The Times cannot come out and say The Surge is working, but, the admissions in this story are enough. On page 2, there is even and admission that many of the problems were caused by foreign fighters linked to al Qaeda.
Laughter is also more common now in the Nidhal household — even on once upsetting subjects. At midday, Hanan's sister, who teaches in a local high school, came home and threw up her hands in exasperation. She had asked her Islamic studies class to bring in something that showed an aspect of Islamic culture. "Two boys told me, 'I'm going to bring in a portrait of Moktada al-Sadr,'" she said.

She shook her head and chuckled. Mr. Sadr is an anti-American cleric whose militia, the Mahdi Army, has been accused of carrying out much of the displacement and killings of Sunnis in Baghdad. They can joke because they no longer fear that the violence will engulf them.
Laughter is the best medicine.
Having written this pre-going to work, some of these links may be a bit dated, at least in Blogosphere time, but, consider what Michelle Malkin wrote Monday night
Well, knock me over with a straw–and get Harry Reid a Kleenex. The NYTimes, yes, the NYTimes, reports what you've been reading from milbloggers and embeds in the blogosphere for weeks and months:
She also mentions that Democrats in Congress are still calling for retreat and defeat.
Captain Ed says progress must be real if the Gray Lady reports it.
Mike at Flopping Aces has a screenshot of today's Times, with this story on the front page above the fold. The one I mentioned yesterday was below the fold, so, the Surge in the Times printing department must be working, too. I'm going to swipe the photo Mike found, too.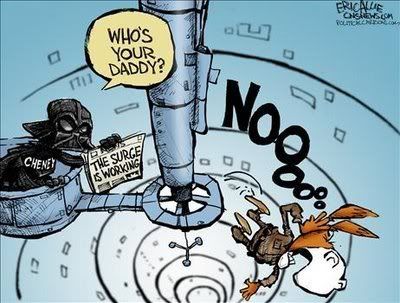 See more at Memeorandum.
Evening update: The Weekly Standard catches some moonbattery and loathing in the left-o-sphere.
Trackposted to Outside the Beltway, The Virtuous Republic, Blog @ MoreWhat.com, Shadowscope, Leaning Straight Up, The Amboy Times, Chuck Adkins, Adeline and Hazel, Public Domain Clip Art, MyHTPC, Allie is Wired, The Crazy Rants of Samantha Burns, The World According to Carl, The Pink Flamingo, CommonSenseAmerica, CORSARI D'ITALIA, Dumb Ox Daily News, and The Yankee Sailor, thanks to Linkfest Haven Deluxe.

If you liked my post, feel free to subscribe to my rss feeds.