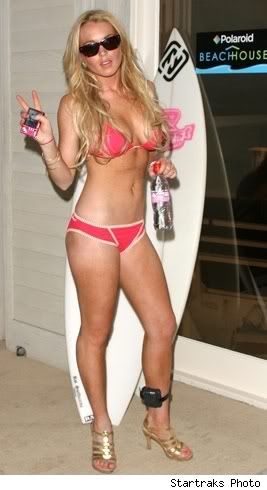 For those who make it this far, I asked a prosecutor friend of mine what he thought of the case over a few beers. Now, he said that, while he does not know the full details of California law, in his state, she could be charged not just with the second DUI, which would not go well for her, as she hasn't even appeared in court for the first one, and possesion of cocaine-a felony, but, here it comes, carjacking, grand theft auto, felony endangerment, and, here we go, kidnapping (3 counts,) among others. He is not really knowledgeable regarding vehicular laws, but, there could be ones for chasing the various cars.
Remember, witnesses are saying LiLo jumped in to an SUV that wasn't hers, and took it on a drive without permission, with three other people in the car who said they wanted out, which she failed to comply with. She put all three in danger, not to mention the people in the vehicles she was chasing. At this point, when all is said and done, it could end up that the DUI and cocaine are factors to use for a tougher sentence, if the prosecutor chooses to charge her with all the felonies. Just consider if she is popped with car jacking
California Penal Code Section 215 (a) states that "Carjacking" is the felonious taking of a motor vehicle in the possession of another, from his or her person or immediate presence, or from the person or immediate presence of a passenger of the motor vehicle, against his or her will and with the intent to either permanently or temporarily deprive the person in possession of the motor vehicle of his or her possession, accomplished by means of force or fear. (b) Carjacking is punishable by imprisonment in the state prison for a term of three, five, or nine years."
Yikes. Then, on to
California Penal Code Section 209.5. (a) states that "Any person who, during the commission of a carjacking and in order to facilitate the commission of the carjacking, kidnaps another person who is not a principal in the commission of the carjacking shall be punished by imprisonment in the state prison for life with the possibility of parole."
She better hope the prosecuter wants to go easy on her.
Trackposted to Perri Nelson's Website, Blog @ MoreWhat.com, Committees of Correspondence, DeMediacratic Nation, Right Truth, DragonLady's World, Leaning Straight Up, The Bullwinkle Blog, Conservative Thoughts, third world county, Blue Star Chronicles, The Pink Flamingo, Republican National Convention Blog, High Desert Wanderer, and Right Voices, thanks to Linkfest Haven Deluxe.

If you liked my post, feel free to subscribe to my rss feeds.