And a Happy Monday to all. Harry Reid has said all is lost, so it is time to take it down a notch, get in the wrong frame of mind for the work week, be prepared to do your least and worst, or at least your bare minimum.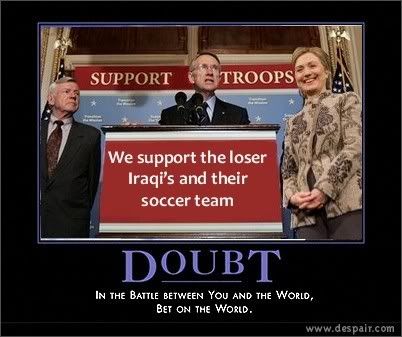 BAGHDAD — Tens of thousands of Iraqis, from the Shi'ite south to the Kurdish-dominated north, poured into the usually treacherous streets yesterday to celebrate a rare moment of national joy and unity after the country's soccer team won Asia's most prestigious tournament.

The revelers spanning the country's sectarian and ethnic divisions danced, sang and waved flags and posters of the team after Iraq upset three-time champion Saudi Arabia 1-0 to take the Asian Cup.
Well, Harry Reid hasn't commented on the Iraqi soccer team as of yet, but, that is telling in itself, isn't it? Do you think we will hear from any of the Democrats? Will Pelosi give a big "great job, guys!" to them? Obama probably won't meet with them, as they are not dictators and tyrants. Clinton will have to take a few polls and organize some focus groups. Maybe Murtha could accuse them of a few atrocities, to boot.
Meanwhile, hell of a job, guys! And all without the torture and brutality that would have occured while Saddam's son Uday was in charge. You know, I have to wonder, where are all the media outlets in reporting on that? Generally, they have been saying "Iraq soccer team wins, yawn, here's a suicide bomber."

Send a trackback to this post, but don't forget to link it.

If you liked my post, feel free to subscribe to my rss feeds.