Happy Friday to all! It's that time of the week again! Do you have an interesting post you want to share with everyone? The official Surrender Monkey of the Democratic Party says to do what the Lefties don't, since they all have the same talking points: link it!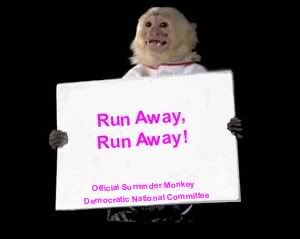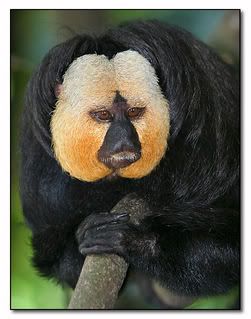 Today, both Surrendy and the Murtha Monkey make an appearence, to call for what Dingy Harry and the Democrats call a "new direction in Iraq"
Democrats have proposed a new direction in Iraq, with House Speaker Nancy Pelosi and Senate Majority Leader Harry Reid writing to President Bush that "it is time to bring the war to a close." Congress will continue to exercise its Constitutional authority to hold the President accountable for a change of course that turns Iraq over to the Iraqis and allows for our troops to come home.
Got that? A new direction is cut 'n run, ie, surrender, and they will hold hearings and pontificate for the camera's to make that happen. And, let's not forget
H.R.353
Title: To prohibit the use of funds for an escalation of United States forces in Iraq above the numbers existing as of January 9, 2007.
Sponsor: Rep Markey, Edward J. [MA-7] (introduced 1/9/2007)
Official Surrender Monkey Legislation. Expect more to be introduced.
And, to reiterate what the Democratic Intelligence Bill, HR 1, includes
(3) It is in the national security interests of the United States to promote democracy, the rule of law, good governance, sustainable development, a vigorous civil society, political freedom, protection of minorities, independent media, women's rights, private sector growth, and open economic systems in the countries of the Middle East, Central Asia, South Asia, and Southeast Asia.
I suppose that was just thrown in for the hell of it, since they say that promoting democracy, the rule of law, good governance, etc, is just not worth it in Iraq, and not in America's national security interests. I have to wonder, what would the Democrats fight for? Other then abortion on demand, of course.

Send a trackback to this post, but don't forget to link it.

If you liked my post, feel free to subscribe to my rss feeds.