From US Newswire
WASHINGTON, Jan. 9 /PRNewswire-USNewswire/ — On Thursday, January 11, 2007, the fifth anniversary of the first detainees entering the U.S.- controlled detention facility at Guantanamo Bay, Cuba, Amnesty International will hold vigils calling for the closure of the facility. Amnesty International members and other activists will participate in demonstrations across the globe, including in Australia, Israel, Italy, Japan, Paraguay, Spain, Tunisia, the United Kingdom and the United States.

In the United States, vigils* are scheduled around the country including in Davis, Los Angeles and San Francisco, CA, Atlanta, GA, Hanover, NH, Boise, ID, Cedar Rapids and Des Moines, IA, New Orleans, LA, Portland, ME, Amherst, MA, Duluth, MN, and Foley Square in New York, NY. U.S. participants will hold signs and highlight the detainees' lack of due process and basic rights. In addition, activists and the public will be able to sign the "America I Believe In" pledges demanding that the United States not torture people or use cruel, inhuman or degrading treatment, among other basic concerns. These petitions will be presented to Congress later in the year. The pledge is available on the Amnesty International Web site — http://www.amnestyusa.org/ — and will be available at all U.S. vigils and demonstrations.

In Washington, DC, Amnesty International USA (AIUSA) will hold a joint press conference with the Center for Constitutional Rights (CCR) at the U.S. Supreme Court on Thursday, January 11 at 10:30 a.m. Speakers will include AIUSA Executive Director Larry Cox, CCR Staff Attorney Gitanjali Gutierrez and Tom Wilner from Shearman & Sterling LLP. Michael Ratner, CCR President, and Jumana Musa, AIUSA Advocacy Director for Domestic Human Rights and International Justice, will co-emcee the program. In addition, there will be Amnesty International members dressed in Guantanamo-style orange boiler-suits, habeas corpus attorneys who represent current Guantanamo detainees, and other activists in attendance.
OK, we close Club Gitmo. Now what, Libs? Where do we send the guests? Do we let them go, so that they can go back to their terrorist ways? That is what has happened with many who have left the resort.
Will you take them in yourselves, perhaps attempt to teach them your silly liberal ways. I'd say tell us how that works out, but, as you will be lying in the morgue, we will have to read about it in the papers.
Meanwhile, all the little jihadi's around the world get a big laugh when you have your silly, pathetic little demonstrations, giving aid and comfort to those who were caught on the battlefields of Afghanistan, fighting against an international coalition of forces, wearing no uniforms, supporting the Taliban and Al Qaeda.
Don't get me wrong, I think it is admirable that you want world piece. Most civilized people do. Unfortunately, the only way to have peace with the followers of Mohammed is to convert to Islam. Or die. You will be at peace then, won't you?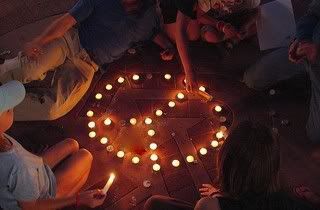 They aren't very bright, either.

If you liked my post, feel free to subscribe to my rss feeds.