Fox News is reporting that a US official stated that a US AC-130 Gunship attacked Al Qaeda targets in Somalia.
A U.S. helicopter gunship conducted a strike against two suspected al-Qaida operatives in southern Somalia, but it was not known whether the mission was successful, CBS News reported on Monday.

The U.S. Air Force helicopter, operated by the Special Operations Command, flew from its base in Djibouti to the southern tip of Somalia, where the al-Qaida suspects were believed to have fled from the capital, Mogadishu, the network reported.

U.S. officials say that the United States received assurances from both the Ethiopian and Somalian governments in the last two weeks that should they obtain intelligence concerning the whereabouts of the three al-Qaida operatives they would pass it on to the United States.

The operatives are believed to be responsible for the 1998 bombings in Kenya and Tanzania as well as the 2002 attacks on Israeli tourists in Kenya and the attempted downing of an Israeli aircraft the same day.
Should be interesting to find out what the deal is in full.
DUmmy comments a comin'
What they won't do to push troops

Let's just start war EVERYWHERE, or is this another poorly thought-out distraction?

i'm voting for "distraction"

And how many Somalians have we killed and/or pissed off? Someone needs to take dimson's toys away; he's far too dangerous.

I smell OIL.

It was him but think they said they been watching for a month I just don't like the timing here. If they got him the world better off (you just knew the timing had to come up. Not quite sure what the problem with it is, but, hey, I live in the real world)
And here
Bush has expanded the war to the OIL RICH Horn of Africa… (followed by several more comments about oil)
I guess that explains it. More blood for oil.
Anytime we need to murder we just say Al-Quaeda now.
I question the timing, not the action. It is widely known that there are radical Islamists and al-qaeda in Somalia. A hit and run attack with good intel is what the "war on terror" should be all about. BUT 48 hours before the "surge" announcement?? hmmm (there ya go!)
Yes, I think that's the real problem here. Why wait until now?
There has been action there lately with the Eitheopian invasion…and all. I wanna believe that it is related to the timing. But who knows for sure besides KKKarl Rove?
Yes, but why did Ethiopia pick last week to invade?
Right on time for the evening news too. Makes you wonder…
Wonkadoodles.
Looking at ye olde Bloglines(e), those who are covering this are: The Bullwinkle Blog (including video of an AC-130), Hot Air, Michelle Malkin, Sister Toldjah, and ????????
More: Woops! Hufftards don't understand the difference between an AC-130 and F/A 18's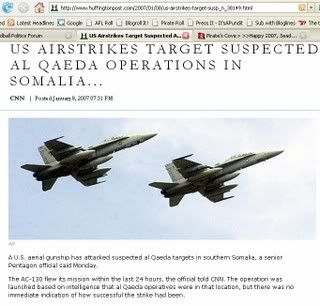 (click for larger size)

If you liked my post, feel free to subscribe to my rss feeds.