And a Happy Friday to all! Hope everyone is doing fine after all the alchohol and trytophan. How are those expanding pant waists doing? 🙂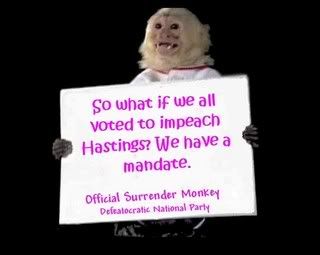 Yup, nothing that says "hey, we are an ethical Party and want to bring ethics to American politics" like pushing Alcee Hastings for the chairmanship of the House Intelligence Committee.
Though acquitted by a federal jury of bribery charges in 1983, Hastings was impeached by the House of Representatives five years later and removed from the federal bench in 1989 by the Senate. Critics from the conservative Wall Street Journal to the left-leaning New Republic have suggested that it would be a mistake for Pelosi to sidestep the top Democrat on the committee, Rep. Jane Harman of California, to select Hastings for the critical post.
Of course, if the Democrats had any ethics to begin with, he would not have been elected. And they would back the United States, wouldn't be for abortion on demand, etc, and so on.
I'm giving 100-1 odds that Pelosi puts Hastings in the position, regardless.

Do you have an interesting post? Or just a post?
Well, link it up! Otherwise, I will send Nancy Pelosi to visit you!
Send a trackback to this post, but don't forget to link it.

If you liked my post, feel free to subscribe to my rss feeds.