And a Happy Friday, all you neocons out there. Drop the MEDS (Midterm Election Depression Syndrome), and get ready for two years of us ripping the majority party!!!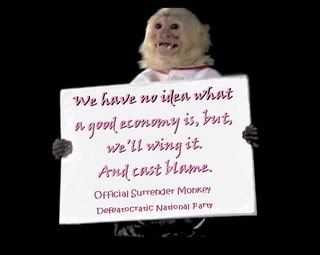 Seriously, it will be interesting to see how the Democrats treat the economy. If it continues roaring along, will they finally say it is great, and credit themselves?
If it tanks, or at least goes lower and slower, will they blame the President, and say "look America, we told you so" about the last 5 years?
Wall Street's three-day winning streak came to an end Thursday as investors, taking a second look at election results, questioned whether a Democratic Congress would be friendly to business.

The losing session, which was also influenced by rising oil prices and a drop in consumer confidence, was to be expected after the rally that lifted the Dow Jones industrials to a new closing high Wednesday. Investors had driven stocks broadly higher this week on optimism that Democrats taking control of Congress would cause political gridlock that would be favorable to businesses.

But after more time to mull over the election, investors are starting to become concerned about an "anti-business stance" among Democrats in Washington, said John O'Donoghue, co-head of equities at Cowen & Co.

"The market's been looking for a reason to go to the downside, and a change in Washington is as good an excuse as any," O'Donoghue said.
I excerpt, you decide.

Do you have an interesting post? Or just a post?
We, send a trackback to this post, but don't forget to link it. Or I'll send Nance Pelosi after you!
Others up and running today, as of this time: Blue Star Chronicles, MacBro's Place, The World According to Carl, Comedian Jenee', Woman Honor Thyself, The Conservative Cat, The Crazy Rants of Samantha Burns, Cao's Blog, Basil's Blog.

If you liked my post, feel free to subscribe to my rss feeds.