Hah! I have just recieved a copy of the next French Soldier Quarterly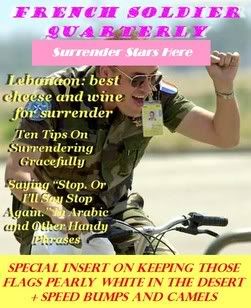 Click for full size
Great pictures of French soldiers training for duty in Lebanon (courtesy of A Bama Blog) Provided they ever get there
The French government has hit back against criticism that it has fallen short of expectations in helping to maintain the ceasefire in Lebanon as President George Bush urged France to send more troops.

"I can't let it be said or implied that France is not doing its duty in the Lebanese crisis," said Michele Alliot-Marie, the French Defence Minister. She pointed to Muslim countries, which could make up a large proportion of the force. Israel sought to veto participation by Muslim countries with which it did not have diplomatic relations, including Malaysia and Indonesia.

Mr Bush raised the pressure on France. "France has said they'd send some troops," he said. "We hope they send more. There's been different signals coming out of France."
The French CESM's have now upped the ante with a pledge of 400 troops, most of which will be engineers. Yup, that should have Hezbollah quaking in their boots! However, news reports are showing that that is more then likely a sham, and only 200 will be deployed.
In other Lebanon news, Israel raided a Hezbollah stronghold, in what is considered to be the first "violation of the cease fire." Which, apparently, has quite a bit to do with an ineffective UN and France
"Israeli army special forces operated deep inside Lebanon last night to foil terrorist operations against Israel," an army spokesman told AFP.

"The operation was aimed at preventing the delivery of weapons to Hezbollah from Iran and Syria," he said, adding that "all goals were achieved".

"In the absence of a system monitoring the border (between Syria and Lebanon), Israel will continue operations to prevent the transfer of arms to Hezbollah," the army spokesman said
Hmm, I just wonder if those two Israeli soldiers have been released by Hezbollah yet. Are they home with their families?

If you liked my post, feel free to subscribe to my rss feeds.