Morning, y'all, Jebediah here. One kook won in Conneticut, another lost in Atlanta. Both races seemed to be the typical Democratic "don't vote for them," but at least Hank Johnson discussed himself now and then (from the Atlanta JC)
Hank Johnson, the soft-spoken DeKalb County commissioner who forced U.S. Rep. Cynthia McKinney into a surprising runoff, finished the job Tuesday, decidedly defeating the 4th Congressional District lawmaker in their fierce rematch.

Johnson's message during brutal campaign simple: "Replace McKinney." On Tuesday, Johnson found that a majority voters in the district had come to the same conclusion. He received nearly 59 percent of the votes.

"What we have done today is something that has been watched by the nation," Johnson said. "It is clear, where most people have a low opinion of the work of our Congress, that they want to see things done differently."

He added, "I pledge I'm going to work with each and every person to work for solutions," Johnson said. "I am here to serve you, to make you proud.
I reckon he cannot do any worse then Kooky McKinney, who has made the Congressional records of the 2004 Dem rented Pres/VP candidates look downright robusto. Over 12 years in Congress, Cynthia introduced 64 pieces of legislation, and passed one. Heck of a record. She has stated the loon position that the President knew what was going to happen on 9/11, even claiming that the Bush admin was responsible for 9/11.
Of course, she wouldn't be kooky without some typical moonbat behavior
(2nd paragraph)In a race that attracted ……. Before the day was out, the incumbent was complaining of voting irregularities, which election officials discounted.

Earlier in the day, the congresswoman complained about alleged voting irregularities. She said supporters told her some of the ballots did not include her name and that some of the electronic voting machines were not working properly.
and
McKinney, who arrived to be with supporters at the Omega World Center on Snapfinger Drive late Tuesday, talked to reporters before 12:30 a.m.

Before she spoke, McKinney played "Dear Mr. President," an anti-President Bush song by artist Pink.

Her remarks were less a concession speech than a protest of the war in Iraq. She also touched on other familiar themes including her distrust of electronic voting and the media.
I'm rather surprised she didn't blame the loss on George Bush and Karl Rove dirty tricks.
I just have to wonder what kind of shennanigans she will pull during her last months. Provided she even shows up for work, which she has barely done since mid July, having participated in zero votes. I guess she will be able to spend some time on the beach with Dan Rather now, seething about Bush 43, and remembering the days when they could spout BDS slogans in the national spotlight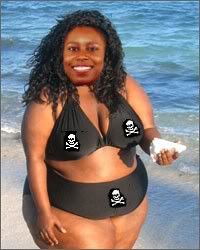 If you liked my post, feel free to subscribe to my rss feeds.