The Surrender Monkey has joined us this fine Tuesday evening, to be witness to who wins the Dem nomination for the Georgia 4th District. SM knows who he is pulling for, and has even brought out old talking points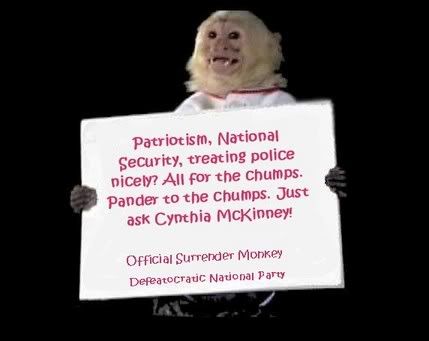 And the results between Nutty McKinney and the other Liberal (Henry C. "Hank" Johnson, Jr.)
3:55am on We Votes Percentage
Johnson 41,178 58.8%
McKinney 28,832 41.2%
98% reporting (tightening up a bit)
BTW, I am going by the official state results. Not playing that game that Mary Beth Cahill did in 2004, where "her numbers" didn't gibe with the official state ones
Also, what the heck is with the slow reporting? Most of the other races have like 75% reporting by this time. Just another case of Dems not being able to run a voting precinct correctly.
Well, with 89% reporting, I am calling it for Johnson. He has been up all night, and it would take a huge change with the last 11% to make a difference for McKinney.
I guess being a wacko, doing absolutely nothing in Congress, and striking a Capital Police officer does make a difference.
Final update with 98% reporting.

If you liked my post, feel free to subscribe to my rss feeds.