Dictators in waiting gotta dictator in waiting
Fauci vents about Americans' opposition to forced masking: 'It's almost inexplicable'

Dr. Anthony Fauci complained during a talk Tuesday evening that many Americans see forced masking policies as a violation of their liberties.

During the talk, Fauci, who is President Biden's chief medical adviser and the director of the National Institute of Allergy and Infectious Diseases, expressed concern about Americans' aversion to both forced masking and receiving the COVID-19 vaccine. He characterized individuals' concerns with such policies as "inexplicable."

"When you tell people they need to mask in an indoor congregate setting when you're in a zone that has a high dynamic of infection — that is looked upon by a lot of people, not everybody, as an encroachment on your freedom," Fauci remarked during the event hosted by the Fred Hutchinson Cancer Center campus in Seattle.
Because masks are not theater, you know
So much that he's not wearing a mask indoors when he himself was telling people to wear a mask indoors. How many times did we see Fauci not wear a mask? He'd show up with it on then take it off, much like Biden and Biden's staff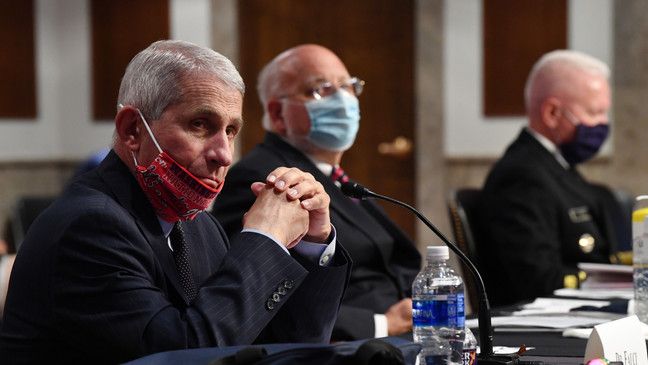 Wearing it and uncovering your mouth makes a mask worthless, right? There are plenty of shots from that same meeting where he's not wearing it at all while speaking, because COVID19 is not a threat while you have the podium, you know.
Anthony Fauci Did Not Wear a Mask in Private—Kellyanne Conway

Former White House counselor Kellyanne Conway has claimed that Dr. Anthony Fauci did not wear a mask amid the pandemic during private meetings but "like magic" would put one on if a photographer entered the room.

The claim from Conway is made in her new memoir, Here's the Deal, excerpts of which were published by The Washington Poston Tuesday ahead of its release.

"No masks was standard fare in the White House Situation Room, where Dr. Fauci was more likely to wear 'Dr. Fauci' socks than a mask," Conway said.

"Then, like magic, when D. Myles Cullen, the vice president's photographer, came into the room, masks would suddenly appear."
It's all theater. One would have thought he would know that cloth and doctor masks made almost no difference. Yet, for most of the time he had on a cloth mask. For show.
Some schools of all grades are requiring masks, some are optional. With the nag parents who force their kids to wear a mask screeching that other kids are not being forced to wear them. Some teachers are apoplectic, such as at Temple, that students aren't being forced to wear the worthless masks. It has become a cult. When you're out in public, you can pretty much tell what party the person is in by them wearing a mask (and often wearing it wrong, with their nose exposed, and sometimes their mouth). If you feel that a mask protects you, wear it. Stop trying to tell the rest of us to wear one. Mind your own business.

If you liked my post, feel free to subscribe to my rss feeds.