The failure to pass climate laws that take money out of people's pocket while limiting their freedom, liberty, and choice and giving the government more power couldn't possibly have anything to do with the notion that 'climate change' is popular in theory, not practice, and that people do not want to pay out of their own pockets, right? Nope, nope, it's white nationalists according to the Sierra Club
White Nationalist Organizing Threatens Climate Progress in the Northwest

Wondering why Oregon's attempt to pass legislation to limit carbon pollution failed this year? Eric Ward, executive director of the Portland-based Western States Center, attributes the disappointing outcome to the rise of white nationalist groups in rural Oregon. Those groups threatened violence to defend GOP lawmakers who fled the Capitol to prevent the passage of the climate bill.

"Right-wing and nationalist groups have been increasingly visible in Oregon over the past five years as rural voters get more disillusioned," said Ward. "In frustration, there are organizations and individuals who have stepped into a leadership gap and are attempting to provide parallel leadership. But that leadership is led by bigotry and threats of violence."
Why would they be disillusioned? It couldn't be due to the Democrats pushing authoritarian government, could it?
At the 2019 Activists Mobilizing for Power (AMP) conference, hosted by the Western States Center, hundreds of advocates came together to talk about how the rising influence of white nationalist groups is impacting issues from climate change to education. 

Activists Mobilizing for Power is a gathering for policy advocates and social justice organizers from every issue area in the progressive movement. One of the things that sets AMP apart from other activist conferences is its regional focus: AMP is designed to bring together justice leaders from the Pacific Northwest and Intermountain West states. This approach offers a unique opportunity for activists from every community to learn from each other about emerging trends in the Northwest that impact folks across issues and states. It's the only event I know of focused on building progressive political power across issue areas in a particular region of the US.

The world is changing faster than ever. Achieving our goals in this moment—when climate change, economic structures, and governing institutions all fuel inequity—means fighting for a bold agenda that recognizes the interconnected nature of our planet, people, economy, and democracy. The theme of AMP this year was "Democracy Under Siege," with a focus on countering white nationalism and defending inclusive democracy.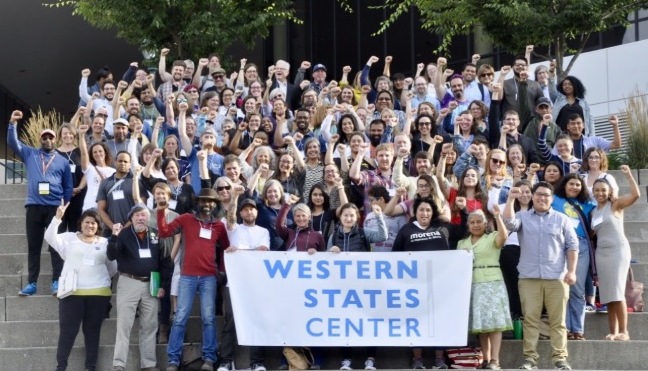 Whoa, that's a pretty white picture.
I know it's a stretch for some folks to make this connection, all the way from fighting climate change to fighting white supremacy. But the bigots and the militia members get the connection. Many of them believe that our work to stop climate change is part of a vast global conspiracy to eliminate the "white race."
There's always an excuse from Warmists as to why they keep failing. Especially when we get
The Sierra Club is committed to a just, equitable, and sustainable future built on a foundation of racial, economic, and gender equity—a future where all people benefit from a healthy thriving planet and a direct connection to nature. We can't build that world without confronting hate through spaces like AMP. We can't even pass legislation to limit carbon pollution while white nationalists are willing to use violence and intimidation to enact their hateful agenda.
I thought the Sierra club was about actual environmental concerns? Apparently not.

If you liked my post, feel free to subscribe to my rss feeds.