Surprise? This comes via The Hockey Schtick, a Wall Street Journal poll on the state of the union and what Americans care about, along with Obama's approval rating. Here's the chart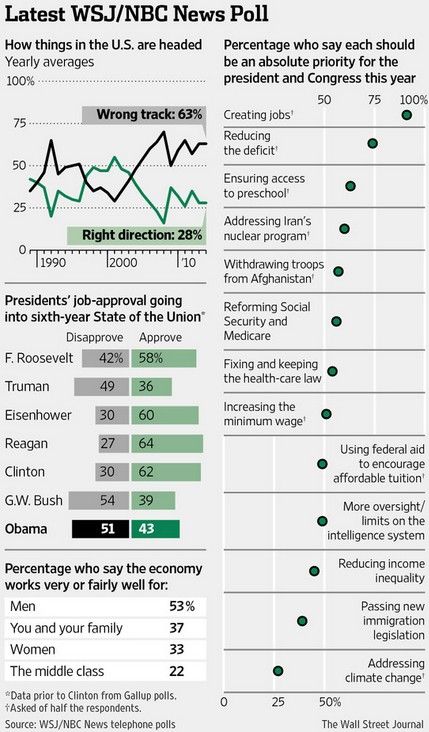 Humorously, when Obama started yammering about "climate change" the Gore Effect kicked in, with light snow starting in D.C.
And why should people care? Warmists refuse to make their own lives "carbon neutral". They won't give up their own fossil fueled vehicles and travel. And Warmists continuously change the data
Multiple U.S. government bureaucracies including NOAA, NASA, and the Department of Energy are again being accused of inappropriately manipulating temperature data — or "adjusting" it, as officials at the agencies implicated in the scandal put it — to show global warming. While the accusations are not new, the latest scandal, sparked by an in-depth analysis of the data by independent analyst Steven Goddard at Real Science, relies on official records to suggest that federal agencies have been fudging temperature measurements to make past decades seem colder and recent years appear warmer.

Numerous scientists and experts confirmed Goddard's explosive findings, but in separate responses to The New American, both NOAA and NASA attempted to downplay the significance of the accusations. The major problems identified by Goddard in the temperature records of federal bureaucracies relate to the U.S. Historical Climatology Network (USHCN), the official data-set covering the continental United States. While the agencies admit the records are adjusted, Goddard and multiple scientists suggested that biased methodology was used to adjust the data to show an unjustified and "spurious" warming trend.
The data is constantly being changed, typically cooling the past and warming the most recent years. The data is the data. If you change it again and again and again, that certain opens up the allegation that this is no longer science. But, then, it isn't: "climate change" is about politics. Period.

If you liked my post, feel free to subscribe to my rss feeds.