You shouldn't be surprised that the article is written by uber-Warmist Bryan Walsh
Climate Change Might Just Be Driving the Historic Cold Snap

Climate change skeptics are pointing to the record cold weather as evidence that the globe isn't warming. But it could be that melting Arctic ice is making sudden cold snaps more likely—not less

…..

But not only does the cold spell not disprove climate change, it may well be that global warming could be making the occasional bout of extreme cold weather in the U.S. even more likely. Right now much of the U.S. is in the grip of a polar vortex, which is pretty much what it sounds like: a whirlwind of extremely cold, extremely dense air that forms near the poles. Usually the fast winds in the vortex—which can top 100 mph (161 k/h)—keep that cold air locked up in the Arctic. But when the winds weaken, the vortex can begin to wobble like a drunk on his fourth martini, and the Arctic air can escape and spill southward, bringing Arctic weather with it. In this case, nearly the entire polar vortex has tumbled southward, leading to record-breaking cold, as you can see in this weatherbell.com graphic:
Let's be clear on one thing: when Warmists talk about "climate change", what they're discussing is changes in the weather and long term climate due mostly or solely to the actions of Mankind, primarily the use of fossil fuels. Now, a few cold winters, and certainly a massive cold front, does not mean the end of the current long term trend of a warm period, which was preceded by a cold period, then a warm, then a cold, etc, going back to the last glacial period. Which surely saw variations in climate. But they were telling us just a few years ago that this was not supposed to happen anymore.  Then the Real World comes up and smacks them with the cold, dead Mackerel of reality, blowing their computer models and talking points out of the water, so they have to reach into their bag of tricks.
The debate is not on warming, weather, or climate, it is on causation…..wait, you've read this argument before, so let's just go to the facepalm for Bryan, shall we?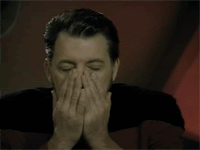 If you liked my post, feel free to subscribe to my rss feeds.