The most shocking thing is that almost no one will be shocked by this typical complete lack of class by people sure to vote Democrat
(Philly.com) Last Friday, an attaché of important gay people from Philadelphia made a trip to Washington D.C. as invited guests of President Barack Obama for the White House's first-ever gay pride reception. There, they danced to the sounds of a Marine Corps band; they dined on crab cakes and canapés; they hand-delivered letters from concerned citizens like this 18-year old who has had four people close to him gunned down, and noted rhyming raconteur CA Conrad; and some of them took advantage of photo opportunities to give the late President Ronald Reagan the middle finger.

"It's not a gesture that I would use in the White House when representing our city and our community," opines Philadelphia Gay News publisher Mark Segal (center), who opted for a sarcastic thumbs-up pose in front of the portrait of George W. Bush over the more vulgar one demonstrated by his Reagan-loathing peers, Matthew "Matty" Hart (left), and self-taught photographer turned toast-of-the-town Zoe Strauss (right).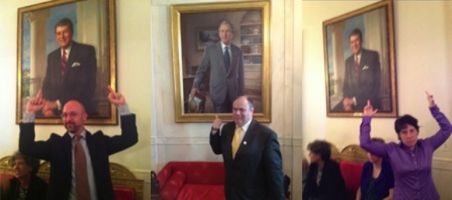 (photo from story)
While the story is about "gay activists", really, this could have been about any left leaning group allowed to wander around the White House during an event meant to simply patronize said group and get them to give all their money up to Obama. Fortunately, your tax dollars paid for this obvious campaign event.
More at: Riehl World View, Power Line, GayPatriot, CNN, The Lonely Conservative, The Gateway Pundit, Weasel Zippers, The Jawa Report, iOwnTheWorld.com, The Powers That Be and Joe. My. God.

If you liked my post, feel free to subscribe to my rss feeds.