Apparently, OWS hasn't heard of those extra long shirts that stops plumber's crack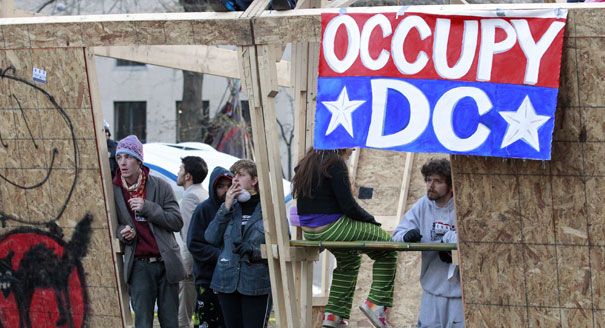 That's the cropped version of the photo (by AP) that the Politico is running to accompany their story
The Occupy Wall Street movement, joined by members of a range of (Leftist) community and labor groups, are taking their grievances to Capitol Hill on Tuesday.

Occupy protesters from across the country, union members, students and other community activists are planning a day to "Take Back the Capitol," according to information posted on websites of participating groups.
What are their grievances? Hmph. The story doesn't say.
Beginning at the Lower Senate Park located next to the Capitol, groups of protesters will fan out to congressional offices to "remind members of Congress that the Capitol is the people's house, and demand that they represent the 99 percent," according to Service Employees International Union.
So, basically another ginned up "protest" by the Left leaning SEIU. No real demands, no coherent policies. Probably just "give me free money." And, yeah, they plan on destroying the area around the Capital by "camping." Hey, chumps, the White House is just down the road. Head on over and protest Obama, who is in bed with the 1% you hate.

If you liked my post, feel free to subscribe to my rss feeds.