Ouch! After PeBo's little Oval Office address, this is going to leave a mark, per a new Gallup poll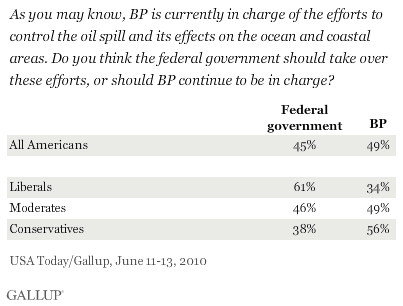 Unshockingly, people on the left, let's call them morons, want President Vacillator in charge, but, still, 61/34 isn't that great of an approval. And, we know where Conservatives stand. Moderates, though, ah, the moderates. The people who really decide a general election.
Actually, the problem isn't so much whether the government or BP should be in charge: it's whether the idiot at high level at BP or the idiots in the Obama admin, starting from the top, should be in charge. Hey, I have a great idea, though, way, way to late, something that should have been implemented a long time ago: power sharing between BP and Los Federales. But, of course, Obama was more interested in posturing and blaming, and the head folks at BP were trying to CYA.

If you liked my post, feel free to subscribe to my rss feeds.