Remember the other day when I mentioned that a Colorado DOT worker could be fired over a photoshopped picture of Obama shining Sarah Palin's shoes (first!)? I know Chucky whined about the story on the 1st, in a wacky unhinged post called What Right Wing Racism? (Does posting the picture make Chucky a racist?) Well, Patterico PWNS Excitable Chucky when he found a cute little tidbit
According to voting records, the woman is a registered Democrat, although it's unknown if she voted for Obama.
Then Mad King Charles goes all typical wonky, trying to spin it like a kid with his hand in the proverbial cookie jar, which Patterico calls him on, as well. Just Man Up, Chuck. Admit you were OWND.
And, and just to go a little farther into Girly Man territory, Chuck has banned Patterico from Little Green Fartballs. Soon, Chuck will put an IP block in, I'm sure, as he has done to others.
Ace catches Chucky pushing the "I Win" button, and threatening to see his lawyer.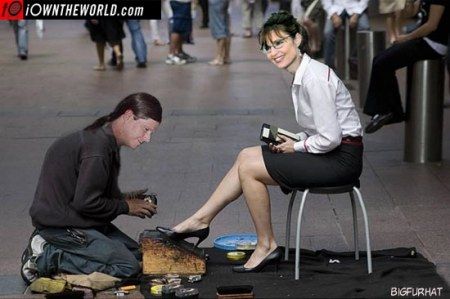 Photo via Blogmocracy. Like Obama, I doubt whether Chuck is qualified to shine Palin's shoes, either.
Others: JustOneMinute, Verum Serum, Conservatives4Palin.com

If you liked my post, feel free to subscribe to my rss feeds.