Every once in awhile, have to take a step back from the politics to see the stuff that really matters
All eyes will be on former Leafs enforcer Tie Domi and NHL toughguy Bob Probert when they renew their storied rivalry on Oct. 4. But this time, their fight to the death will involve spins, music and sparkly costumes.

Probert and Domi are two of eight former NHL players paired with a collection of Canada's best female figure skaters for CBC's new reality show, Battle of the Blades. They will take to the ice at Maple Leaf Gardens for seven weeks and 14 episodes of choreographed routines on Sunday and Monday nights. Viewers can vote for their favourite pair, and the bottom two will face each other in a "skate-off " on the Monday show, where a four-judge panel will decide who will move on. And when burly hockey players are involved, there is always potential for trainwrecks.

"They have no equipment on, no helmets, nothing, and they have to hold a girl's hand and skate to music. That can be nerve-wracking and stressful and crazy sometimes," says Olympic gold medallist Jamie Sale. "But they are handling it really well and having a blast trying to do it."
The tale of the tape:
Tie Domi: 3515 penalty minutes in 1020 games. Altercations with fans. Suspended 8 games for sucker punching Ulf Samuelsson. Suspended for elbowing an unsuspecting Scott Niedermayer (and damned lucky Scott Stevens was in the penalty box. Stevens would have killed him)
Bob Probert: 3300 penalty minutes in 935 games. Had a fight with Stu Grimmson 6 seconds into the Mighty Ducks' first ever game in Detroit, in which there were a TON of kids in attendence. He has 285 fights to his credit, many of them with Domi.
Both of these guys were enforcers, protecting the star players. Now, one last time, they will lay it all on the ice. And, yes, I am a massive NHL fan. Why do you ask?
And, then there is this
Awesome.
Florida's public alligator hunt is underway, and the nighttime pursuit of trophy-sized specimens in the muggy marshlands is challenging and often unproductive.

But Arianne Prevost of Satellite Beach was in the right place at the right time, and with the right people on Tuesday night during her first-ever gator hunt, as she used a crossbow to bag an 11-footer weighing perhaps 450 pounds.
Gotta be a conservative. She is also a mother of a 10 month old.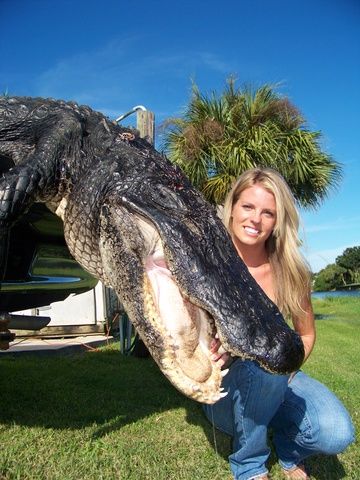 If you liked my post, feel free to subscribe to my rss feeds.