These are the folks who Obama wants to give force to accept the government option, as done by Michael Ramirez (h/t Ed Morrissey)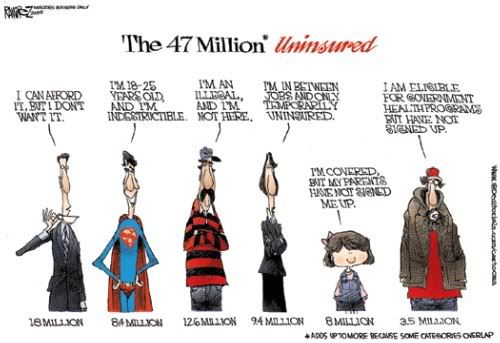 Great reason to fundamentally change the way health care is delivered in America, giving us the same, um, ah, oh, heck, put it bluntly, crappy socialistic health care that Canadians and the British get. But, the Democrats are hell bent on passing this bill, much like the Waxman-Markey climate change idiocy, because it gives the federal government more control over your life, along with commerce and the economy. If you think they are doing this out of the goodness of their lives, then you've lost the ability for rational thought. Exactly the kind of person who votes Democrat.
Ed also points to an article by The American which breaks it down.
Meanwhile, there is trouble in paradise
House healthcare negotiations dissolved in acrimony on Friday, with Blue Dog Democrats saying they were "lied" to by their Democratic leaders.
Democrat leaders lying? The hell you say!
Crossed at Stop The ACLU

If you liked my post, feel free to subscribe to my rss feeds.