The Surrender Monkey is sad. He wishes that he was available for Saturday work. Unfortunately, he is out of town at the A.N.S.W.E.R. International Socialism Conference. He was upset that he had to miss the Jena 6 rally, but, even he thought it was stupid to hold it in L.A.
Rank-and-file Democrats expressed dismay on Friday over their party's latest anti-war strategy, with some members reluctant to vote around Veterans Day to bring troops home. The House was on track to consider legislation next week that would give President Bush $50 billion for operations for Iraq and Afghanistan, but insist that he begin withdrawing troops.

The measure identifies a goal of ending combat by December 2008, leaving only enough soldiers and Marines behind to fight terrorists, train Iraqi security forces and protect U.S. assets.
So Nancy retreated yet again. She is getting really spectacular at it. But, you know what they say: "amateurs practice till they get it right. Professionals practice till they can't get it wrong."
Who decides the number of troops left over? And who is to say that the ones there now aren't all necessary to fight terrorists, train Iraqi security forces, and protect U.S. assets? Quite frankly, it sounds like the Defeatocrats left wiggle room to appease the kook fringe base with a withdrawl timeline, but will have no real meaning.
House Speaker Nancy Pelosi pushed off plans for a Friday vote after caucus members told her late Thursday they weren't sure they would support it. Liberal Democrats said the proposal was too soft, while conservative members told Pelosi they thought it went too far.

"I think the message in the next week ought to be that a heck of a lot of people have been harmed (in combat) and we ought to take care of them," said Rep. Gene Taylor, a conservative Mississippi Democrat who says his constituents mostly support the war.
Unfortunately, the Dem leadership is very much defeatist, and beholden to the kook fringe base. Those "conservative members" (snicker) will get to see the full power of the anger behind the kook fringe shortly.
Pelosi told reporters on Friday that she was confident the measure would pass.
Guess not. And, if it passes in the future, it will be veto'd yet again, and the Democrats will show that they are more invested in defeat and BDS then working to ensure the mission succeeds, especially in light of the huge progress that has been made in the last 6 months.
"The American people want out," said Rep. Elijah Cummings, D-Md. "And we have to make sure we take giant steps in that direction."
Yes, we do. But most of us want out when the mission is complete, not when it would leave Iraq in tatters, under the influence of Islamic extremists, and leaving the United States much diminished.
But, this whole kerfuffle shows that Democrats cannot even do retreat and defeat correctly.
Surrendie did ask if I would use some stock photo's, so, I will oblige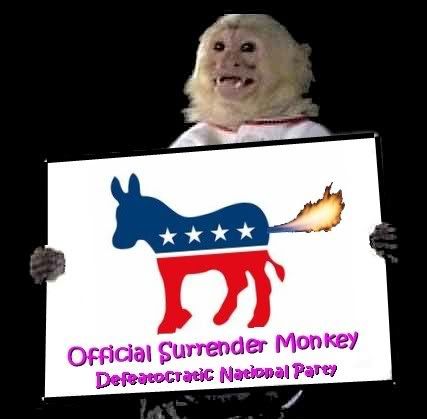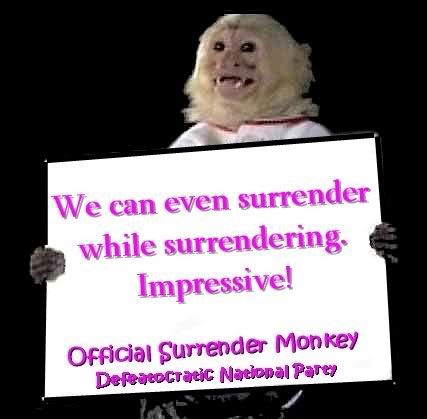 Surrender-posted to Outside the Beltway, Stop the ACLU, Blog @ MoreWhat.com, Perri Nelson's Website, 123beta, Adam's Blog, Stix Blog, Right Truth, The Populist, Shadowscope, Grizzly Groundswell, The Bullwinkle Blog, Leaning Straight Up, Cao's Blog, Big Dog's Weblog, Adeline and Hazel, Nuke's, Diary of the Mad Pigeon, third world county, The Crazy Rants of Samantha Burns, The Uncooperative Radio Show!, The World According to Carl, Blue Star Chronicles, The Pink Flamingo, CommonSenseAmerica, Gone Hollywood, The Yankee Sailor, and Church and State, thanks to Linkfest Haven Deluxe.

If you liked my post, feel free to subscribe to my rss feeds.