During these past few weeks, where temperatures have been below average, the global warming as caused by Man zealots have been active. Actively using lots of power, apparently.
(CNSNews.com) – As Sen. John Kerry promotes his new book on the dangers of global warming, he's been running up an average electric bill of $1,100 a month at his federal-style red-brick townhouse on Louisburg Square in the Beacon Hill area of Boston.

That's according to the Massachusetts Democrat's utility company, NStar, one of many utility companies across the nation whose operators provide information about the average monthly electric bill for any given address.

Sen. Barbara Boxer (D-Calif.), chairwoman of the Senate committee on environment and public works, paid a high of $675 a month and a low of $225 a month in 2005 to power her home in Greenbrae, Calif., according to the utility company Pacific Gas and Electric.
More do as I say, not as I do, from Democrats, eh? We have already seen what the Goracle uses in energy, far above the average user. As I have said many times, why should people listen to folks that talk the talk, but refuse to walk the walk? You know, the whole "lead by example" thing? If they are jet setting around, driving SUVs, racking up huge power bills, why should we do anything different? Sure, they can dump money into so called "carbon offsets" which the rest of us really can't afford (or want) to do, but carbon offsets miss the point of walking the walk.
Now, President Bush says he is at least a somewhat believer (I do not really agree with him on this), and what does he do?
(Gore's use of energy is) presumed to be considerably more than President George W. Bush's home in Crawford, Texas uses. Though jeered by the environmental movement, Bush has won praise for energy efficiency at his ranch house.
And, as usual, other zealots want to excuse the behavior of Kerry, Gore, Boxer, and other limousine liberals
But Chris Miller, global warming campaigner for Greenpeace International, said personal power consumption is ultimately irrelevant in the big picture.

"We all need to do what we can. But I'm afraid we're going to miss the forest for the trees if we look at individual members," Miller told Cybercast News Service.

"The issue is not about one person's home or the light bulb they use. At the end of the day, you or I can change our light bulb or buy a Prius [hybrid car]. What matters is congressional action with an economy-wide [carbon emissions] cap, like Europe."
Of course. It doesn't matter that those who push global warming as caused by Man do not live the life, we have to have congress (blank) things up for everyone else. The ultimate in elitist clap trap. It doesn't matter what they do, they're special. It is only the little people who should change their lives, at the point of a sword.
Meanwhile, the Kyoto signatury countries aren't even close to meeting their commitments, and Kyoto wouldn't even make a difference anyway. Great. Let me know how that works out.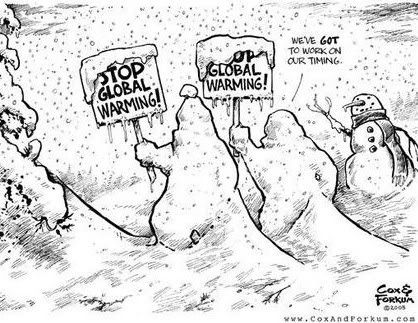 Van Helsing points out climate change zealots protesting in the snow. Snicker.
Trackposted to The Virtuous Republic, Blog At MoreWhat.com, Perri Nelson's Website, DragonLady's World, Cao's Blog, The Bullwinkle Blog, , The Pet Haven, Conservative Cat, Pursuing Holiness, Conservative Thoughts, Pet's Garden Blog, third world county, stikNstein… has no mercy, The Crazy Rants of Samantha Burns, The Pink Flamingo, High Desert Wanderer, Right Voices, and The Yankee Sailor, thanks to Linkfest Haven Deluxe.

If you liked my post, feel free to subscribe to my rss feeds.