Happy Friday to all! It's that time of the week again! Do you have an interesting post you want to share with everyone? The official Surrender Monkey of the Democratic Party says to do what the Lefties don't, since they all have the same talking points: link it!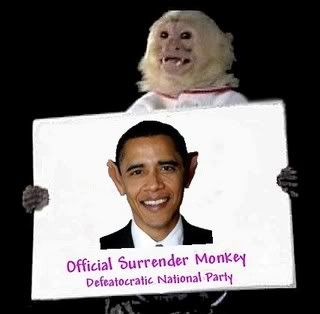 Yeah, I took some liberties with the ears, sue me. (via CNN)
Every American should have health care coverage within six years, Democratic Sen. Barack Obama said Thursday as he set an ambitious goal soon after jumping into the 2008 presidential race.

"The time has come for universal health care in America," Obama said at a conference of Families USA, a health care advocacy group.

"I am absolutely determined that by the end of the first term of the next president, we should have universal health care in this country," the Illinois senator said.
Um, OK. And who shall pay for said health care? That part always seems to be missing, much as actual evidence and facts is missing from the theory of evolution.
What is also missing from Obama's platform is anything remotely resembling a plan to protect the United States and preserve, protect, and defend the Constitution, which, just in case you missed it, mentions nothing about socialized health care, but does mention a whole lot about protection the United States from foes, both foreign and domestic. Promoting the general welfare doesn't mean giving everyone something they did not work for.
Article II, Section 2, talks a lot about the President being the Commander in Chief, making treaties, appointing Judges, and some other important things to the Framers, but nothing about what the Dems push in their agenda. Funny, eh?
While I am talking Obama, let's see how truthful his liberal supporters are
A website encouraging Sen. Barack Obama to run for president unveiled a list of celebrity "endorsements" for the Illinois Democrat Thursday, but the site does not have the celebrities' permission and in some cases ignores their criticism of Obama.
Liberals lying? I'm shocked!

Send a trackback to this post, but don't forget to link it.

If you liked my post, feel free to subscribe to my rss feeds.