It's that time of the week again! Do you have an interesting post you want to share with everyone? The official Surrender Monkey of the Democratic Party says to do what the Lefties don't, since they all have the same talking points: link it!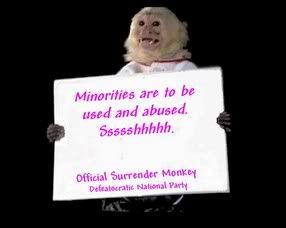 Ah, yes, the "progressives" dirty little secret. The Party that has a former KKK recruiter. The Party who was against the Civil Rights Act. The Party that has done all it can to keep minorities poor and beholden to them, for simple power. The Party who will disgard their self appointed guardianship of minorities in a hearbeat if it suits them. And, flying in to the mix (again) is Air America Deadbeat.
Seems that AD's "flagship" station, which lost its lease at WLIB (which was taken away from a Caribbean format), is moving to a new station, WWRL 1600, which has half the broadcast power of WLIB (which wasn't a powerhouse to start with,) starting September 1.
Did I mention that WWRL is an Urban talk format station, ie, Black programming? I didn't? Well, it is. Do you think that Air Deadbeat will allow any of the WWRL personalities to keep their jobs? Considering how racist Al Franklin is, I would doubt it. Notice how many Blacks work at AD as on air personalities now. I can only find Mark Riley, and he gets the very early morning shift.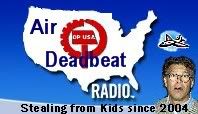 As typical, Lefties do not get how bad it is: "We are excited about our new affiliation and the platform this move will establish for Air America in the years ahead," said Jim Wiggett, acting CEO of Air America. That was Sheldon Drobney, one of Air Deadbeat's co-founders at the Huff Post.
Yes, excited about moving to a station with half the broadcast power. The New York Post's John Mainelli calls WWRL "radio's version of the boondocks – the top of the dial where AM signals are weakest." Well, I supposed that is exciting when your ratings are in the toilet and you have to pay through the nose to get stations to carry your programming. When Lib radio can only generate a 24th place ranking in New York City, things are not going swimmingly. They cannot even keep important executives, according to Brian Maloney at The Radio Equalizer.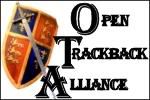 Send a trackback to this post, but don't forget to link it.

If you liked my post, feel free to subscribe to my rss feeds.