Via the neoCon News Network (or so the DUmmies say :))
Meanwhile, James Myart, a prominent Texas civil rights attorney whom McKinney retained after her altercation with the police officer, issued a statement Monday saying he no longer represented her. He did not explain why she was no longer his client.

"I am bound by attorney-client confidentiality not to discuss the past representation," he said.
Interesting. Speculation could run rampant about why, so I won't delve into conspiracy like perhaps she smacked him or called him a fool. Smirk.
Arriving at the Georgia Capitol Monday on the first day of qualifying for the July 18 primary, the outspoken McKinney was all smiles and exuding confidence, telling reporters that "people love me because I tell the truth."

"They know I told the truth about September 11th. They know I told the truth about George Bush's war," she said. "And can you imagine that now, in this election season, we're talking about a nuclear strike on (Iran)?"
"There's the Truth. Then there's The truth." Troy McClure was unavailable for further comment.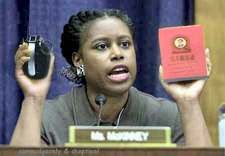 If you liked my post, feel free to subscribe to my rss feeds.