The Grey Lady, in a long, drawn out, convoluted article, takes the same BS information that some British Leftard sources have published and regurgitates it as new.
US President George W. Bush made clear to British Prime Minister Tony Blair in January 2003 that he was determined to invade Iraq without a UN resolution and even if UN arms inspectors failed to find weapons of mass destruction in the country, The New York Times reported.

Citing a confidential British memorandum, the newspaper said the president was certain that war was inevitable and made his view known during a private two-hour meeting with Blair in the Oval Office on January 31, 2003.
Nowhere do the articles mention that these are the infamous Downing Street Memo's, those darlings of the Moonbats, which went nowhere, except in the fevered minds of the Surrender Monkeys. But, then, the SM's feel that Bush is more dangerous then Saddam or UBL. Go figure.
Captain's Quarters has more.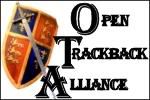 It's an open post. Go ahead and leave a trackback to this post to any article you want to highlight. Don't forget to link back.

If you liked my post, feel free to subscribe to my rss feeds.