After reading this story over at Michelle Malkin's spot about the misuse by the Surrender Monkey of the Mercedes Benz symbol, I decided to take a look at some photo's of the "protests" from Fayetteville on Saturday. Didn't find any poorly drawn peace symbols, but, this one is a hoot: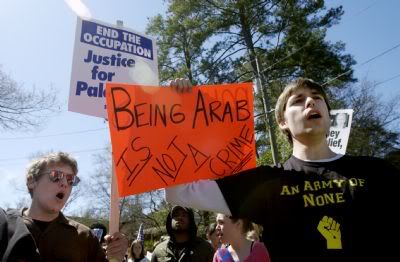 (All props to Fayetteville Online for the photo. I thought it better to host it myself then to hotlink it.)
During the whole DP World Ports deal, wasn't being an Arab a crime?
As a sidebar, why is someone carry a sign about ending the occupation of Palestine? That had what to do with the Iraq War? Defeatocrats have trouble staying on message.
 

If you liked my post, feel free to subscribe to my rss feeds.