There was a time when I actually thought highly of Al Gore, at least his environmental policies and viewpoints. Then, alas, he went insane, and has now become part of the problem for environmentalism to be taken seriously, rather then as full of kooks. Case in point:
Has ever a little indie film faced a greater hurdle? Imagine this sales pitch: Babe, it's a movie about global warming. Starring Al Gore. Doing a slide show.

With charts.

About "soil evaporation."

Improbable? Perhaps. So it's all the more amazing that "An Inconvenient Truth" had its world premiere at the Sundance Film Festival on Tuesday night before an enthusiastic audience that gave the former vice president and his movie a big standing O.
Yikes. Maybe the standing O was cause it was over.
The morning after his debut as leading man, Gore pronounces this whole Sundance thing "a most excellent time." He is wearing earth tones again. He seems jolly . He brought Tipper and the kids. He is attending parties and posing for pictures with his fans and enjoying macaroni and cheese at the Discovery Channel soiree. He's palling around with Larry David of "Curb Your Enthusiasm," who says, "Al is a funny guy." But he is also a very serious guy who believes humans may have only 10 years left to save the planet from turning into a total frying pan.
It's this kind of overblown rhetoric that harms the environmental movement. Global warming may or may not be happening. It may or may not involve Man. But nobody cares when people bring out this ultra-alarmist type fustian (yeah, I went to the thesaurus. Rhetoric gets old.) And, even though Al is taking on mostly global warming, this kind of pomposity (thesaurus) harms the entire movement.
Thanks, Al.
Meanwhile, the story mentions Larry David, husband to Laurie David, who was also involved in the project. You remember Laurie, right? She is the lady who drives a Prius, goes nuts when she sees someone driving an SUV, yet jets around in a Gulfstream G-5. Just another dissimulator (hypocrite gets used to much when talking about liberals.)
Among the film's lessons: Earth's glaciers are melting, the polar bears are screwed, each year sets new heat records. Al Gore sometimes flies coach. He also schleps his own bags.
It probably isn't fair to pick on Al's weight issues, but, quick photoshop's are fun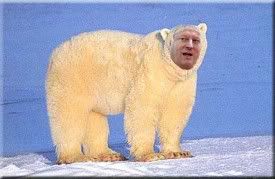 If you liked my post, feel free to subscribe to my rss feeds.