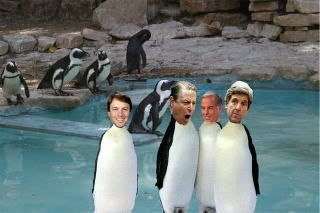 Seems as if the gay penguins are back in the news.
"PENGUINS which zoo keepers believed were gay have picked up four females from another zoo for breeding.
Six endangered Humboldt penguin pairs had tests when they failed to breed – and were found to be male.
Now they have turned their attentions to the females flown in from Kolmarden Zoo in Sweden.
Jeike Kueck of Bremerhaven Zoo, Germany, said: "They may find love with a Swedish female but we're leaving them to it. They may even be bi-sexual."

If you liked my post, feel free to subscribe to my rss feeds.