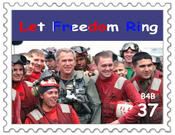 Blogs for Bush is having a design contest for a new stamp. (hat tip blogoddess Beth)
" So we're proposing our own "response" to this (the nutbags who made the nasty kill Bush stamps as art). Blogs For Bush is going to have a stamp design contest, where you can put your Photoshop skills to work to create a tasteful stamp that is pro-Bush, pro-America, or pro-troops."
Here is my humble submission. It is good to use my photoshopping abilities for good, not evil, for a change. For those who have seen some of me work, ye will understand. For those that haven't search hillary, boxer, or pelosi.
Update: Here is the link for the submissions at B4B.

If you liked my post, feel free to subscribe to my rss feeds.