Why was the teacher using these types of flashcards in the first place? There's no rational reason, except to attempt to indoctrinate the very young children
Wake County teacher resigns following 'pregnant man' flashcard controversy

A preschool teacher in Fuquay-Varina has resigned following a controversy surrounding LGBTQ flashcards beings used in her classroom.

On May 27, House Speaker Tim Moore (R) posted about the flashcards, saying Rep. Erin Paré (R-Wake) learned of them from a concerned constituent.

Moore's post says the flashcards depicted a pregnant man and were being used to teach colors in a preschool class at Ballentine Elementary School.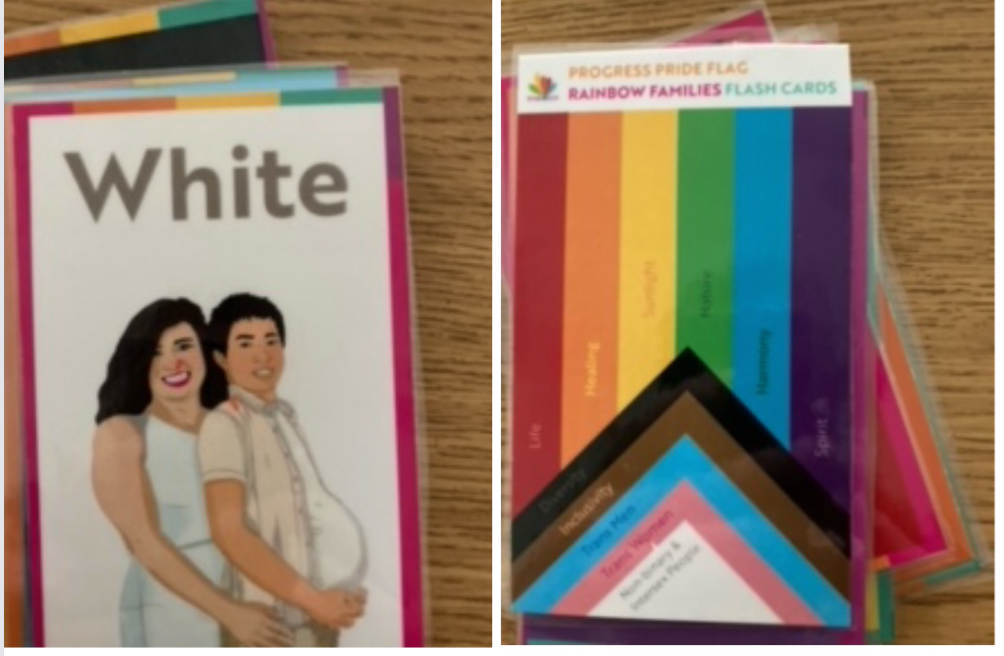 To teach colors? There are tons of flashcards available to do that, including free ones. Were there not ones provided by the preschool? Instead, the teacher chose to purchase these ones and bring them in.
Paré contacted the school's principal who confirmed the cards had been used in the classroom and "were not part of approved curriculum and that she was unaware that they were being used."

In response, Wake County Public School System officials said they were concerned "to learn of the inappropriate instructional resource found in a preschool classroom."

"An initial review determined that flash cards were not tied to the district's Pre-K curriculum, did not complement, enrich, or extend the curriculum and were used without the Principal's review, knowledge, and/or approval," Wake County Public School System officials said in a news release Friday. "The materials have been removed from the school. The district is reviewing the matter."
The nutters think they can get away with this stuff, but, parents are catching on, and the Fuquay-Varina area isn't exactly a left leaning location. The teacher at the Ballentine Elementary School has resigned. This story is getting play across the Triangle news outlets, including ABC11 and WRAL, which also has a piece on LGBTQ advocates protesting the parental bill of rights legislation. Perhaps the LGBTQ folks should control their members so it's not needed, eh? The News And Observer writes
Some critics on social media had demanded that the teacher be fired, but a parent in that special-needs preschool class praised the teacher as being a caring educator.
Wait, this was a special needs pre-school class? Really? Really taking advantage of the children.
"A North Carolina preschool is using LGBT flag flashcards with a pregnant man to teach kids colors," U.S. Rep. Lauren Boebert, a Colorado Republican, tweeted Tuesday. "We went from Reading Rainbow to Randy Rainbow in a few decades, but don't dare say the Left is grooming our kids!"
They are grooming. The NY Post, one of many outside the Triangle area outlets which picked up the story, notes the $20 cards
The teacher who doled out the laminated flashcards was not identified by district officials. They were made by a company called ByUs Box, which billed them as a way to "bring anti-racism and inclusivity directly into family homes," according to its website.

The company launched its "ByUs Box" positive educational toolkits in July 2020, but is no longer accepting new orders, its website states.

The flashcards used in the preschool classroom were intended to be a way to teach diverse "races, ages, sexualities, genders and abilities" to young minds.
So, grooming cards.

If you liked my post, feel free to subscribe to my rss feeds.