Observations be damned, the climate cult has a scaremongering narrative to propagate
The sea will rise 12 inches by 2050. Here's what we can do to get ready | CivicCon

Rob Young doesn't know why climate change and sea level rise are such political hot buttons.

Part of the problem, he suspects, is that there are a lot of people who profit by keeping our country divided. But, he said, another part of the problem is scientists like himself haven't done a good job explaining to people how and why these issues will affect their livelihoods and communities.
Or, bare with me, it could be that the science is super-shoddy and the policy proposals all seem to be about giving government more of our hard earned money along with government taking more of our freedom and life choices away.
By the way, it was nice of Young to take a long, fossil fueled trip from North Carolina to Pensacola, Florida, for the conference
Communities will be affected by sea level rise depending on where they are, with their elevation playing a major role, but he said the global average is expected to be about 12 to 14 inches of rise by 2050.

"That may not sound like a lot, but that's how much sea level rise we had over the last century," Young said. "That's happening in the next 30 years."
Actually, sea rise during the 20th Century was 8 inches, which is the average sea rise per century over the last 8,000 years. Meaning that a Holocene warm period should have much more sea rise, as it will be much lower during the cool periods. That's the way averages work. So, this is a bunch of scaremongering mule fritters, not science.
Since the conference is in Pensacola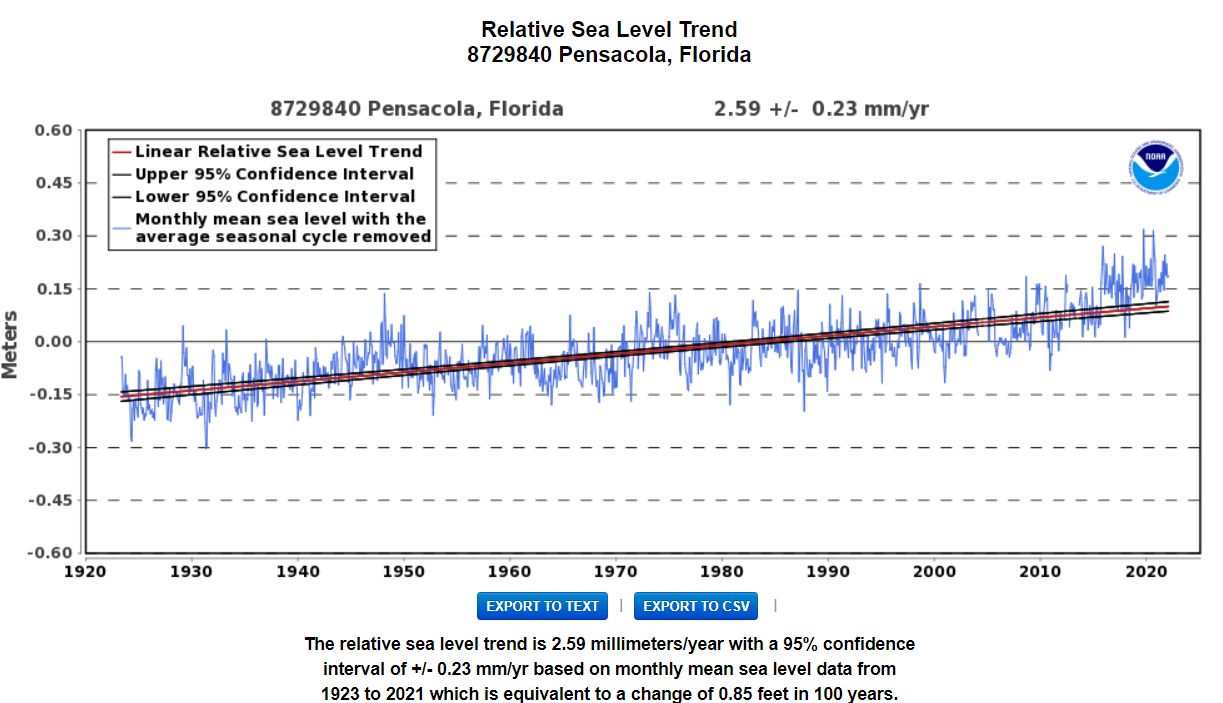 2.59mm equals .1019 inches. So, around 10.2 inches every 100 years. 5 inches every 50 years. Meaning 3 inches by 2050. That's observation. That's recorded fact. Perhaps we will get more than average by 2050, because we should get more than average during a warm period. But, if we do not get 12 inches by 2050, who is held responsible? Will the media for broadcasting this? How about Young? Who pays the price for this doomsaying?

If you liked my post, feel free to subscribe to my rss feeds.