Green Biz's Joel Makower attempts to make a point about this, but, unintentionally makes a different point
COVID-19 and climate change: A healthy dose of reality

It's too early to tell whether COVID-19 is linked in any way to the climate crisis. Maybe it is, maybe it isn't; we'll likely never know for certain. Still, consider the global health crisis currently upon us as a warm-up act for a climate-changing world.

In the immortal words of the '70s rock band Bachman-Turner Overdrive, "You ain't seen nothing yet."

For nearly two decades, health officials around the world have warned about the rise of infectious disease from a warming climate. The Pentagon, for example, started raising concern back in 2003 in an independent study commissioned by the U.S. Department of Defense. It warned that "As famine, disease and weather-related disasters strike due to the abrupt climate change, many countries' needs will exceed their carrying capacity."
See, we don't know if Wuhan has any link at all to 'climate change', and most likely has none, because it seemed to have everything to do with there always having been viruses and people in filthy open air markets cooking bat or pangolin (or, yes, possibly it getting out from a biological center right down the street from the market)
Clearly, this is not a "someday" situation. According to Tedros Adhanom Ghebreyesus, director-general of the World Health Organization since 2017, "As man-made climate change has taken hold over the last four decades, dozens of new infectious diseases have emerged or begun to threaten new regions, including Zika and Ebola." Moreover, he writes, "Bubonic plague, spread by rats and fleas, is predicted to increase with warmer springs and wetter summers. Anthrax, whose spores are released by thawing permafrost, could spread farther as a result of stronger winds."

Bubonic plague. Anthrax. Suddenly, coronavirus feels rather tame.
Ebola, like other Hemorrhagic diseases, predates the current warm period, as does Anthrax and the Bubonic plague. In fact, the massive bubonic plague that killed anywhere from 75 million to 200 million occurred during a Holocene cool period back in the 1300's. (see the big graphic below the fold)
He is correct, though, that this is a warm-up act for a Hotcoldwetdry government policy world, where people are not working, where travel is restricted, people are stuck at home, where food and goods are in short supply, where jobs are not available, and government is telling you what to do, where you can and can't go, and how to live your life.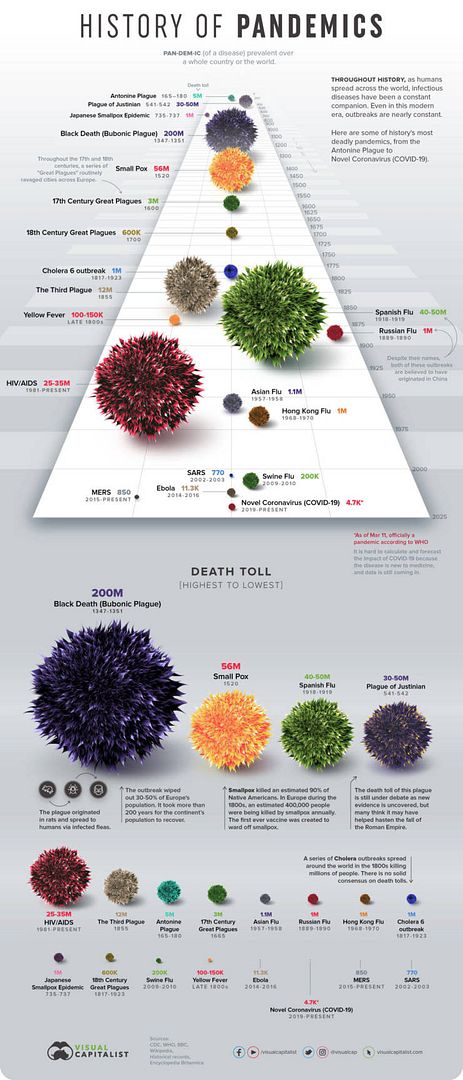 You can see an even bigger one here, since Photobucket has reduced the size of the upload.

If you liked my post, feel free to subscribe to my rss feeds.