Perhaps someone should explain to them how much government is controlling their lives and will be taking out of their paychecks. And then how much more government will be controlling their lives and taking from their paychecks if the policies they advocate for are passed. That's, if they can find a job thanks to the policies the Cult of Climastrology pushes, along with all the other Statist stuff
Climate change is not only worrying kids; it's also making them angry

Parents aren't getting it, and that's a problem.

"Hey, Mom," Cyan Cuthbert, 15, asked one day after class at Walter B. Saul High School in Roxborough. "Did you know we're gonna die because people like to litter?"

Like a lot of youngsters, Cuthbert, a freshman, is obsessed with climate change, a big topic at the school, which specializes in the study of agriculture and the environment. Grown-ups, she said with astonishment, are simply not scared enough of melting polar ice caps and acidifying oceans.

"It's not registered in our parents' heads yet," Cuthbert continued. "I want a job, a house, kids someday. But I can't have that if the Earth is on fire, and my children won't ever know what an elephant is."

While no precise data exist on how climate change manifests itself in children's behavior, it's becoming clear that kids' perpetual presence on social media and the internet stoke zealous preoccupation and incite a woke attitude that can't be extinguished.
The crime rate for Philly is not as bad as many big cities, being an 8, meaning it is safer than 8% of US cities (100 is best). Their property crime is actually not that bad, but, their violent crime rate is three times the Pennsylvania rate. Maybe the kids should worry about that.
"Kids are freaked out and terrified," said Washington, D.C., psychiatrist Lise Van Susteren, who served as an expert witness in Juliana v. the United States, a lawsuit brought in U.S. District Court in Oregon in 2015 by young people claiming to have a constitutional right to be protected from climate change. The case was dismissed in January.

"Some are unraveling, and the little ones have no coping mechanisms," she said. "One 4-year-old believes his family dog will become extinct and die. Some older kids are wondering why they should even bother going to college. Many fear having children of their own.
You can blame the adults for this: it's simply child abuse the way they have made mental messes out of children for political purposes. There's lots and lots more crazy in the article, so, let's end with this
Youth agency over climate change is apparent throughout the Philadelphia area, according to Maria Stroup, director of Impact Center in Haverford, a nonprofit staffed by former educators who connect socially conscious youngsters with dozens of community organizations.

"Kids are p—ed," Stroup said. "Battling climate change is not an adult movement; it's kids'."
OK, if they feel that way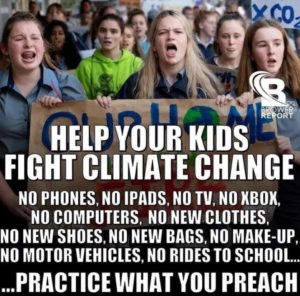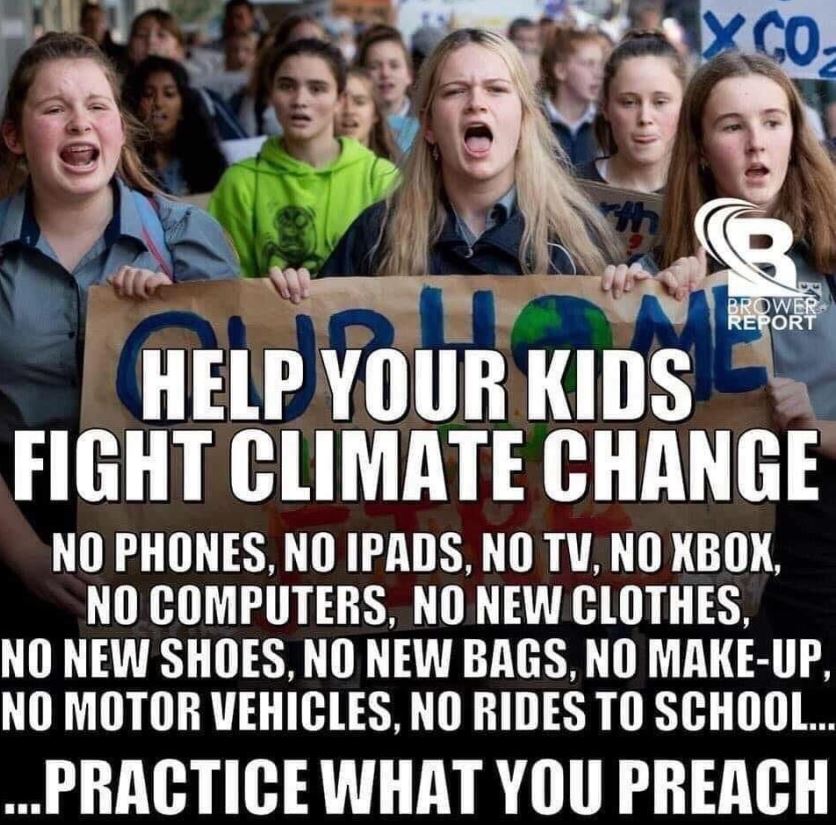 If you liked my post, feel free to subscribe to my rss feeds.