It's total doom, you guys
America After Climate Change, Mapped

In 100 years, what will a United States transformed by climate change look like? At this point, you don't have to use much imagination to predict what's coming: Temperatures will continue to climb; sea levels will continue to rise. And, by the 2060s, the U.S. Census Bureau estimates that global migration patterns will bring 100 million new people into the country, who will settle from coast to coast.

Almost everything else about the climate of tomorrow and the nation's ability to survive it is less inevitable, however, says Billy Fleming, the director of the University of Pennsylvania's McHarg Center for Urbanism and Ecology. "There are certain general things we're certain about, but the shape and content of the future is not one of them," he said. "We get the future we build for ourselves."

With other researchers from the McHarg Center, he designed a series of maps of the U.S. for an online collection dubbed The 2100 Project: An Atlas for A Green New Deal. The website use a variety of projected and current data sources to sketch out the country's possible fate, displaying its geography in economic, ecological, agricultural, and ideological terms. Climate models vary, as do timelines and confidence intervals for each map. But collectively, Fleming says the images provide visual evidence that it's not too late for grand interventions to make a fundamental difference. Ambitious proposals like the Green New Deal—which involves a dramatic overhaul of the nation's energy and building infrastructure—could be the key, he said.
So, what does it look like?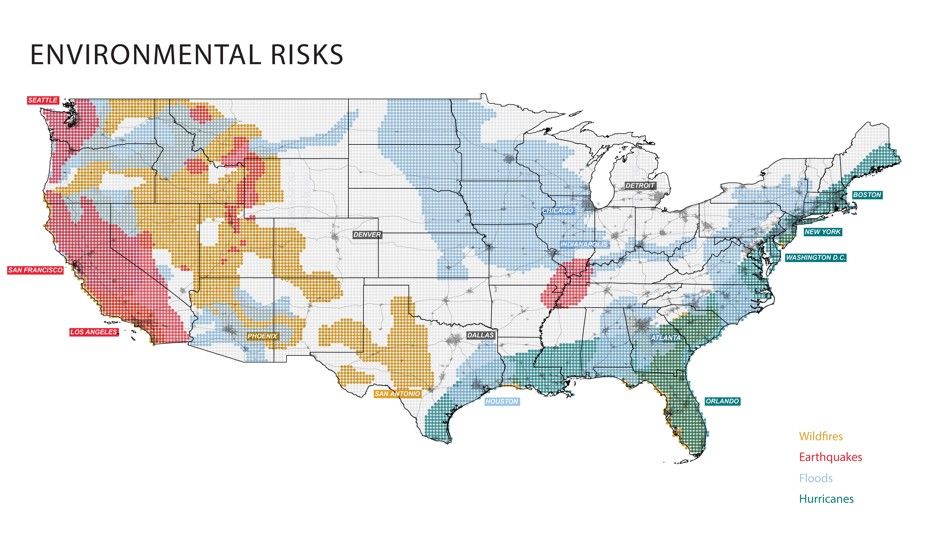 I'm going to leave the graphic full size, and how that it shrinks according to browser size. See, because you ate meat and drove to work, there will be earthquakes in places that get earthquakes (yes, that red blob in the middle is correct, that's the New Madrid seismic zone), hurricanes and floods in places that get hurricanes and floods, and wildfires in places that get wildfires. Because these things never happened before the fossil fueled engine, you know.
This is how insane this cult is, especially the earthquakes thing.

If you liked my post, feel free to subscribe to my rss feeds.